Dear Companists,
Thank you very much for this excellent campaign launch! We are glad that so many of you are interested in the new venture loans on Companisto and have confidence in us. Most importantly, we would like to thank you so much for your numerous friendly messages and very interesting suggestions concerning the further development of Sawade. All of us here at Sawade are really enjoying your support!
Today, we have two interesting things to tell you. First, we have introduced another reward. If you invest €10,000 or more, you can now get our chocolate box "Premium." This box consists of the Christmas box "L" AND the Easter box "L" AND 15 high-quality marzipan loaves.
By the way, the scent of fresh marzipan is also present in our office at this very moment. If it were possible to transmit scents on the Internet, you could smell it as well. In fact, we are currently flambéing fresh marzipan. Some of us have already taken a trip to the production facilities and stolen some marzipan from the oven. For our marzipan confectionery, we use 100 % marzipan paste that is made from Mediterranean almonds, is not overly sweet, and is finely ground.
We then shape this marzipan in various traditional ways and put it in the oven at 400 °C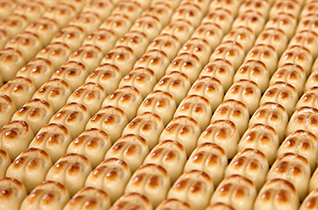 for a short time. Afterward, we flambé the marzipan paste so that it slightly caramelizes on the surface and gets a nice golden brown color. Because of the roasted flavors, the marzipan has a nice scent and a fantastic taste.
Marzipan is also one of our seasonal bestsellers; last year alone, we used over 35 tons of marzipan in our factory.
If you would like to try our marzipan, you may either purchase it at one of our retailers (you can search for retailers on our website www.sawade.berlin/haendlersuche or visit our online store.
As an additional thank-you for your confidence and your support, we are also giving you an 8 % discount on all products in our online store. This offer will be valid during our entire financing campaign. Just use the voucher code companisto8 during your order, and you will get the discount during at the checkout.
Feel free to visit our store:
You can find more Sawade marzipan specialties here:
https://shop.sawade.berlin/schachteln/22-pralinenschachtel-marzipan-4000569010140.html
Best regards from our factory,
Melanie & Benno