My head full of impressions, phrases, and more than one idea
It's time to briefly summarize
What I have seen, heard, and discussed at start-up night this year
And who participated in the event, albeit only buffetwise.
Okay, let's leave it at that. Rhyming is not one of my fortes. Once again, this year's Berlin start-up night was full of talks and discussions, networking opportunities, and some really good live music. We, the Companisto team, attended the event undercover, listened to various people, and also talked to some of them.

During the "Corporations and Startups – a healthy relationship?" fireside chat, we participated in the discussion between Evgeni Kouris (Gamewheel, Toywheel), Menes Kum, Sebastian Fittko (RWE), and Achim Bönsch (from left to right in the picture). Are there too many corporate funding programs in Germany? Is it helpful to integrate disruptive start-ups into traditional structures and business models? Each of the four panelists had a different opinion because each of them is in a different position. Menes Kum of Deloitte Digital, for instance, believes the relationship between corporations and start-ups is fruitful because corporations may pass on their knowledge and mentor young companies. Achim Bönsch, one of the founders of barzahlen.de, on the other hand, is not a fan of accelerators, and he wonders why they do not focus on later-stage start-ups instead because such relationships may reduce the degree of innovation in seed-stage companies.
By the way, what defines "success" in the case of companies developing new companies in innovation labs? The exit? Or high profits? While we were still reflecting on this question, host Manual Großmann announced the coffee break.
Business Ideas and Substantial Breakfast
As coffee and conversation go well together, we talked to a few start-ups that had their own stands at the Berlin Chamber of Commerce and Industry building and at the Berlin headquarters of Deutsche Telekom. At this point, we would like to thank Romy of Zaprado, Michel of Vobe, and Clemens and André of mycouchbox.de for the nice conversations!
Interview #1: Zaprado
Romy Gottschalk and her team are revolutionizing the world of fashion through their do-it-yourself design kits. In the video below, Romy explains the idea behind Zaprado and tells you what she would do if she were not running her own business.
Interview #2: Vobe
Vobe founder Michel Lindenberg talked about the modern way of making appointments and about substantial breakfast as a source of energy. A WhatsApp competitor from Berlin, Vobe enables its users to make appointments in a whole new way.
Interview #3: MyCouchbox.de
In our interview with André and Clemens, we discussed their motives and the idea behind their box, and we asked the two whether they usually have a healthy breakfast in spite of their love of snacks.
Panos Meyer also gave a talk during the event, and his message was very important: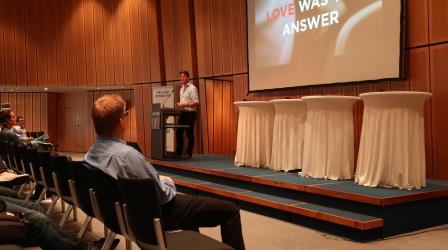 "Love is the answer!" Rather than constantly produce new ideas and start-ups in order to sell them at the highest possible price soon afterward, people should focus on something entirely different: love. Love what you do; love your product; love your work. Word!
Later at night, at the Berlin headquarters of Deutsche Telekom, we met Khalil and Leonard, two of the Companists who had won tickets for the event. To quote Leo, "the weekend was simply incredible. The talks and the many different start-ups were really great. It was so much fun experiencing the start-up scene and entrepreneurial spirit at first hand and meeting nice people. Traveling here all the way from Stuttgart was really worth it, and we will definitely come back next year."
We have nothing to add to that, and we were really glad to meet you too!
Refugees Welcome – Really!
Finally, we would like to mention the "Refugees on Rails" project. This is a remarkable company focusing on refugees. At the entrance of the Deutsche Telekom building, people could drop off their old but working laptops, which will soon be used to train refugees in software development. Indeed, almost all start-ups are desperately looking for such developers. Consequently, this project is a wonderful way of helping refugees abandon the degrading role of the victim that is a burden on society and needs to be nursed back to health. In other words, this is where true integration takes place! Refugees need a future, which they will not have unless they also have financial security. We are curious about the project's further development and will certainly keep an eye on it!