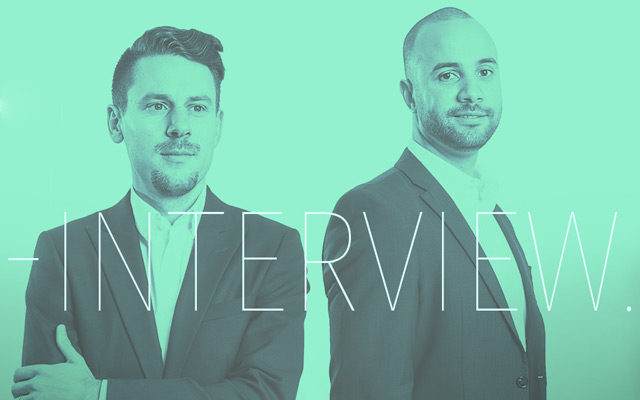 We will launch the new Companisto website soon. But before we start a new chapter in the history of Companisto, we would like to look back on our platform's past. Consequently, we recently sat down with Companisto founders David Rhotert and Tamo Zwinge and talked about this subject in detail. André Glasmacher, head of public relations at Companisto, led the discussion.
---
André Glasmacher: David, Tamo, why did you decide to found Companisto?
David Rhotert: Mostly because we had made the experience ourselves that even innovative and promising business models have a hard time receiving the necessary financing in Germany. In fact, when we co-founded our first start-up in 2001, it seemed that financing would fail right at the beginning. Everything looked like a so-called quick fail.
Tamo Zwinge: Back then, we were 22 years old, so we carefully prepared for the bank appointment and felt quite confident about it. The appointment, however, ended after only five minutes because we could not put up a property as collateral. Nobody even wanted to discuss our business plan, and it seemed we would fail to receive funding for our start-up.
David Rhotert: At that time, we experienced the significant financing gap young and innovative companies in Germany are facing for the first time. Still, giving up was not an option to us, so we had to find a different way of financing our start-up. We finally succeeded in financing it with the help of our families and friends. Admittedly, this was still a tiny crowd, but it helped us take the first steps toward the later launch of Companisto.
André Glasmacher: Since then, several years have passed, during which you sold your shares in that start-up and worked as lawyers in major international law firms among other things. What caused you to focus on the start-up scene again?
Tamo Zwinge: Over time, we realized that our own experience was not an isolated case. Indeed, many other company founders encountered the same problems. Also, there had hardly been any improvement in venture capital financing of start-ups in Germany. On the contrary, the financing gap was still stifling innovation. We had never really stopped thinking about this. Start-ups are the future of the European economy; these companies are full of people willing to make a change. This fact has always attracted us to the start-up scene.
David Rhotert: Later, when we founded Companisto, we cut the Gordian knot by realizing that there was no direct and convenient way for private individuals and investment companies to invest in start-ups online, particularly if they wanted to invest relatively small amounts. This is how Companisto was born. Thus, in 2011, we were determined to launch an equity crowdfunding platform, and Companisto was the name of our choice. By the way, the name is based on the English word company and the Spanish word compañero.
Tamo Zwinge: A lot of things have changed since then. We now have more than 41,000 Companists and have hosted 48 funding campaigns, raising a total of €22 million. Nevertheless, we do not want to rest on our laurels. Quite the contrary, we will keep improving Companisto and equity crowdfunding in general and keep connecting investors and start-ups.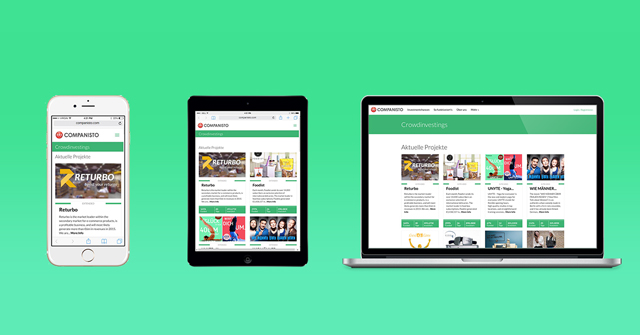 Preview of the New Companisto Website to Be Launched Shortly
André Glasmacher: You have also been urging policymakers to further improve the framework for start-up financing and equity crowdfunding. Why has this been so important to you?
Tamo Zwinge: Innovation and progress are based on the will to take risks and adopt new approaches. Company founders accept this challenge and are fully committed to their company's success. People often forget that company founders are people too – people who sacrifice their free time, focus their entire efforts on one project, and accept crazy working hours to realize their idea. These people are working hard and enthusiastically on making a change. It is a known fact that the number of newly founded start-ups in Germany is declining, which is threatening innovation and the creation of jobs, that is, the very foundation of long-term social prosperity.
David Rhotert: Our vision is that people who have developed a promising business model and have convinced a large number of people of this model in an open dialog should really get the chance to implement their business model. We do not want this chance to be based on property or other financial assets. To make sure this is the case, we need a mentality that is based on openness to and curiosity about innovation and that is supported by the framework for start-ups in Germany.
Tamo Zwinge: There have been some positive signals here though. In the European Union and in Germany, policymakers are now supporting equity crowdfunding. This year, the German federal government passed an act on the protection of small investors, whose first draft had received much criticism from the entire start-up and financing industry.
David Rhotert: The founder of Companisto and an expert on equity crowdfunding, Tamo was invited to participate in an expert hearing by the Finance Committee of the German parliament and helped change the draft to a positive law for the equity crowdfunding sector by providing convincing factual arguments.
Tamo Zwinge: During the legislative procedure, the German parliament actively focused on start-up financing and equity crowdfunding, thus sending an important signal to the entire start-up and venture-capital industry.
André Glasmacher: Do you have any data on how the start-ups have developed in the three years since the launch of Companisto?
David Rhotert: Yes, we will soon publish the first statistics on that, and we plan to expand these statistics in the future. People will soon be able to look at the statistics on the new Companisto website.
André Glasmacher: Any last words?
Tamo Zwinge: A person's perseverance and potential to innovate depends neither on their personal background nor on their financial situation. Instead, these personality traits depend on the person itself and on the chances this person gets and is able to use. This is what has been motivating us every single day for more than three years now. Indeed, investments in innovative companies are far more than just a chance of above-average returns for taking certain risks.
David Rhotert: At this point, we would also like to thank all Companists and our team, which support us in boosting innovation and progress through equity crowdfunding on Companisto. We are looking forward to the next few years together with all of you!