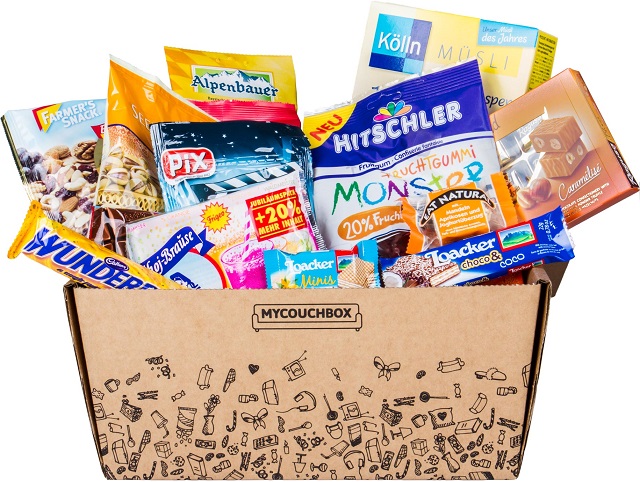 Dear Companists,
In this update, we would like to summarize what MyCouchbox is about and why our business model is so attractive that we received the first prize on the German TV show "Kampf der Start-ups" ("Start-up Battle").
Our Concept
Once a month, we send our customers a delicious, varied, and inexpensive surprise box containing many products. No matter whether they prefer sweet, salty, or sour snacks, we manage to please all snack enthusiasts, and we ship the Couchbox to their homes without any shipping fees. Customers may rate all products on our website. Using this feedback, we can continuously optimize the contents of our boxes.
The Market
According to the most recent survey by "eSales4u," annual e-commerce expenses per capita amount to €1,211.00, which corresponds to an increase of over €150.00 compared to the previous year. Consequently, total per capita consumption of candy alone exceeded 35 kg. According to a survey by the world's largest confectionery association, "Sweets Global Network," snacks and candy have a market penetration of over 95 %.
Our Business Model
What is special about our business model? MyCouchbox gets all products for free. Through our "neutral" box, we are able to reach German and Austrian customers at home. Producers pay for this service by providing us with their products, thus enabling us to keep our cost structure lean. We pass on these low costs to consumers in order to reach as many target groups as possible.
As we get products free of charge, our margin is highly attractive in spite of our relatively low sales prices. Apart from the sale of boxes, our business model provides us with additional ways of diversifying our business in the B2C and B2B segments. For instance, customers can reorder products from the box in our online store. Producers, on the other hand, may use our additional services on Facebook or Instagram. Moreover, we are a relevant partner in terms of market research because all customers may rate the products on our website.
We then summarize these ratings in a report that shows customers' opinions on taste and packaging and potential repurchasing rates among other things. As a result, producers may use MyCouchbox as an accurate barometer of trends related to snack and candy consumption in Germany and Austria, and they get updated statistics every four weeks.
Do you have any further questions? Feel free to contact us at investor-relations@mycouchbox.de. We are looking forward to your messages.
Best regards,
The MyCouchbox team