Dear Companists,
While this update's title is rather long, it also summarizes things very well. We have already raised €230,000, which makes our team and our investors happy. Indeed, the fact that we raised 2/3 of our funding goal in 1/3 of the scheduled funding period clearly shows that we founders believe in a future together with our partners.
Faster Processes
In October, we not only launched our campaign, but we also started our partnership with you. Moreover, our sales processes in October were as fast as never before. Never before have we managed to fill several boxes in advance while simultaneously acquiring such exciting products. Some major brands (which we have to keep secret because some customers are still waiting for their box) have made it to a box for the first time, and this box is of course our MyCouchbox. In the area of logistics, we have also increased the degree of automation, which has enabled us to be 25 % faster in our day-to-day operations (e.g., we can now handle some one-time box orders by customers in less than 24 hours).

On the picture above, you can see what the process looks like behind the scenes. Together with our partner Christ Logistik, we started packing our November boxes today. Consequently, there are currently 54,000 products on several hundred square meters waiting to be packed into boxes. In a few days, we will start shipping the boxes, so our investors will also get their boxes then; we are already looking forward to your feedback! Maybe you have also noticed on the picture above that we still have much space left at our fulfilment partner and are thus still able to grow. And indeed, we have great plans together with you.
MyCouchbox at Dublin Web Summit
I would also like to tell you about another highlight: MyCouchbox co-founder Sarah, our head of sales André, Svenja (marketing), and Patrick (finance) are currently attending Dublin Web Summit on behalf of MyCouchbox. Dublin Web Summit is probably the most important tech and start-up event worldwide and offers much entertainment in Dublin every year.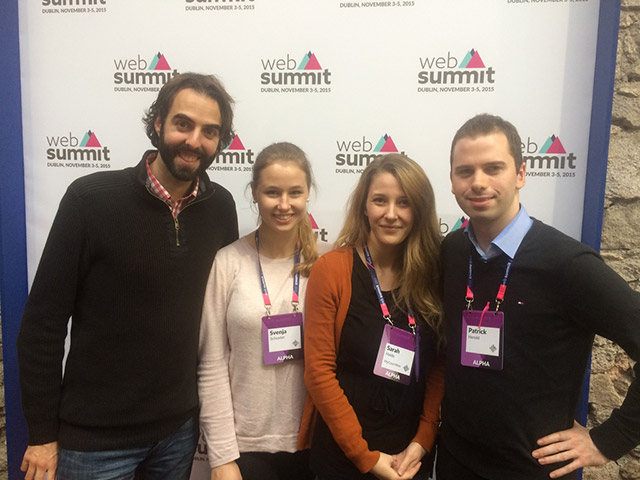 André, Svenja, Sarah, and Patrick Representing MyCouchbox at Dublin Web Summit (from Left to Right)
More than 42,000 people from all over the world are meeting in Dublin for the event. MyCouchbox is part of the event and will discuss future cooperation with Salesforce among other things. Salesforce considers itself the world's leading provider of cloud-based business applications for sales, customer service, digital marketing, communities, and business analytics. Indeed, we plan to invest part of the funds raised in an expansion of our technical infrastructure. Also, if companies like Rocket Internet, RegioHelden, or box subscription service Glossybox trust in Salesforce, it cannot be the wrong thing for MyCouchbox either. But rest assured that we have negotiated a reasonable price.
Moreover, MyCouchbox is also an exhibitor at Dublin Web Summit. We followed the call of the event organizers and presented our company at an own booth in the heart of the conference yesterday.
The Team Is Growing
I have saved the best for last: Our wonderful team keeps growing. Kerstin Bosbach will primarily support Sarah in terms of online marketing, that is, in increasing our brand's activities in social media. In addition, Fabio Marose will join our logistics department, thus serving as an important link with logistics companies GLS, DHL, and Christ Logistik. We would like to welcome the two of them to our team and are sorry that they were not available for a photo. In fact, they are currently preparing product reorders from our shop for shipping because there is much work to do.
I am truly grateful for your support!
Best regards,
Euer Clemens