Dear Companists,
Our Companisto campaign will be over in as little as 38 days. We are really proud that we have already raised over €915,000 with your help, and we would like to thank you for your confidence, for your many helpful suggestions concerning potential partners, and for your numerous sales tips. We are very optimistic about this season, and we are really looking forward to the next one as well!
Increase in Factory Outlet Revenue
We are in the middle of peak season for chocolates, truffles, and chocolate. Just in time for the beginning of this season, we have again worked on our factory outlet, built a new sales counter, and made some decorative repairs. In our factory outlet (which is over 120 m² large), we are offering chocolates and truffles with little flaws and broken candy from our factory at cheap prices. Until 31 December, our outlet will also open from 9 a.m. through 2 p.m. on Saturdays. Moreover, we have had some positive experiences with our demonstration sessions, the next one of which will take place from 7 through 11 December. We will then decorate marzipan loaves with customers' names in our factory outlet and discuss the peculiarities of Sawade.
All of the above activities have led to a 40 % increase in revenues compared to last year (in the period from July through October), and we believe that our factory outlet has even more potential, for instance in terms of tourism and coach travel.
A Sawade Bus for Berlin
From late November, a double-decker bus will go around Berlin, advertising our Sawade chocolates and truffles. We are really looking forward to looking at the bus when it is ready, and we will be happy when it goes along Kurfürstendamm. Please send us a picture if you see the bus on the road in Berlin!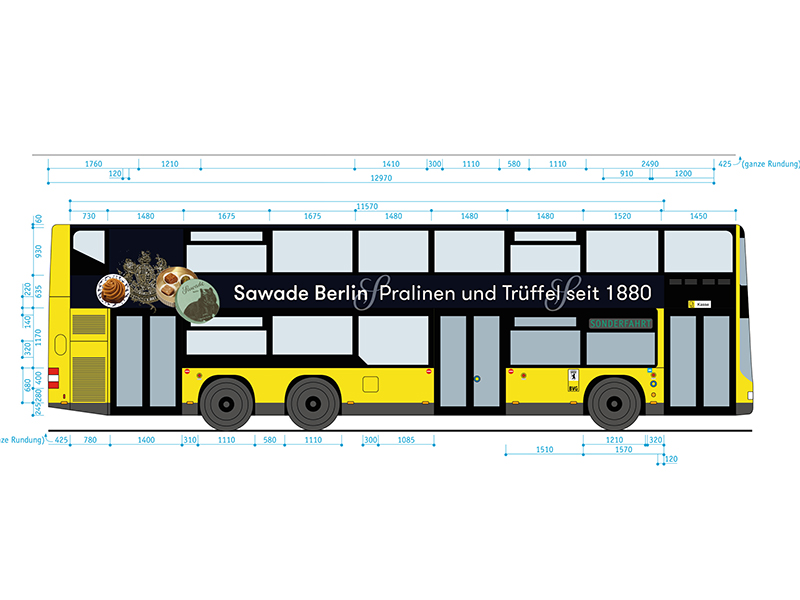 Supporters of Komische Oper
Last week, the "supporters of Komische Oper Berlin" visited us. This club consists of people supporting Komische Oper Berlin and has existed for more than 25 years. We gave the club a presentation on Sawade, our company's history up to this day, and the peculiarities of our factory. Komische Oper and Sawade have been partners for a long time, because both companies were founded in downtown Berlin in 1880.
Today, we are still collaborating with Komische Oper: After performances, each guest of the opera receives a Sawade chocolate in a box made specifically for this purpose.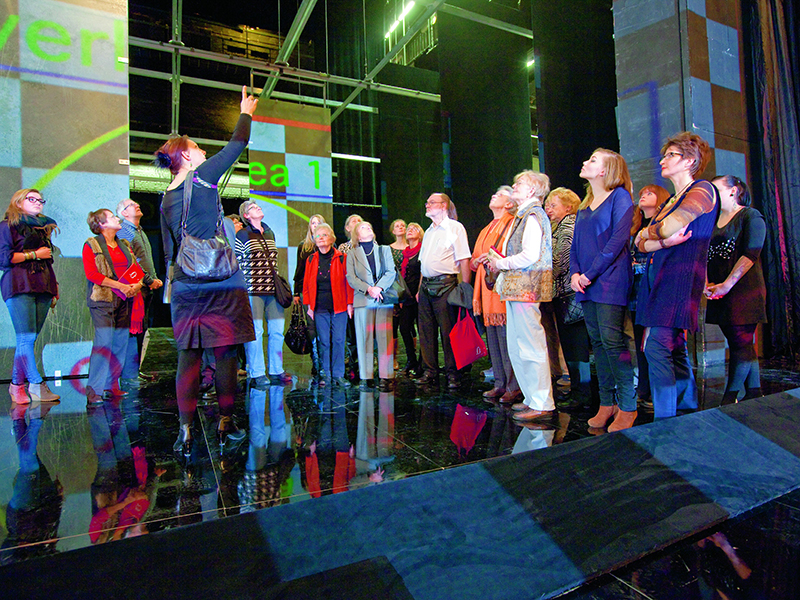 Promotion Tour of Germany
Our sales team is currently on a promotion tour of Germany, that is, we are visiting some of our retailers and are introducing customers to our delicious products. During live tasting events, customers may also try our specialties, ranging from the Königin Louise pastry, fresh Kir Royal and Marc de Champagne truffles, handmade brittle, and creamy nougat chocolates to the finest pistachio marzipan. Our experiences during the tour have been very positive thus far. Indeed, Retailers and customers alike have been thrilled.
Best regards from our factory (and remember to keep eating chocolate, which will make you happy),
Melanie und Benno