Dear Companists,
During the cold season, we would like to provide you with some hot news from the world of noDNA.

noDNA at Make Munich
While things are getting more relaxed for many companies at this time of the year, work at noDNA is still in full swing, and we are preparing for a major event. Indeed, noDNA will be one of the gold sponsors of Make Munich, the largest DIY festival in southern Germany, which will take place at Zenith in Munich on 16 and 17 January.
As a gold sponsor of the event, we will organize a large robotics area in collaboration with the event organizers, where we will show visitors our robots and enable them to build and test robots themselves. Our own booth will include a noDNA info corner and workshops as well as a large competition area where everyone may test robots or start robot competitions.
We will also host our 2nd robot meeting at Make Munich. "Robotmeeting by noDNA" will be the perfect place for all people who want to test and improve their own robots or simply want to get in touch with other robot enthusiasts. For us, Make Munich is the perfect platform to present our noDNA brand and the robot industry in general.
Consequently, we have reached the final stage of our preparations, and our entire team looks forward to two exciting days at the festival.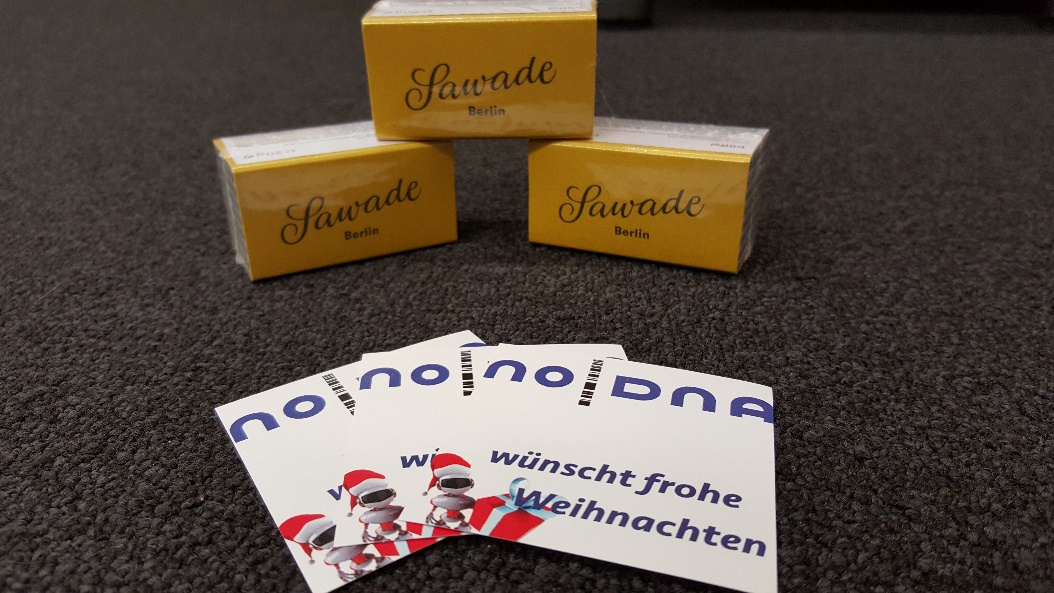 Season's Greetings: noDNA Cooperates with Sawade
Christmas is also the right time to thank people. Therefore, we would like to thank both the Companists and our customers for their confidence and for fruitful cooperation at any time. Moreover, we will include select small chocolates by Berlin chocolate factory Sawade in all orders shipped during Christmas season as a special thank-you.
Best regards from Munich,
Janos