Dear Companists,
This year has only just begun, but we have already made the first important deals. In fact, TradeMachines has agreed on as many as two lucrative partnerships. Both agreements may lead to potential monthly revenue in the five-digit euro range. Moreover, we would like to announce that we have decided to extend our Companisto campaign, which will end within the next two months. This decision will enable you Companists to still invest in TradeMachines during the extended period and to participate in our success.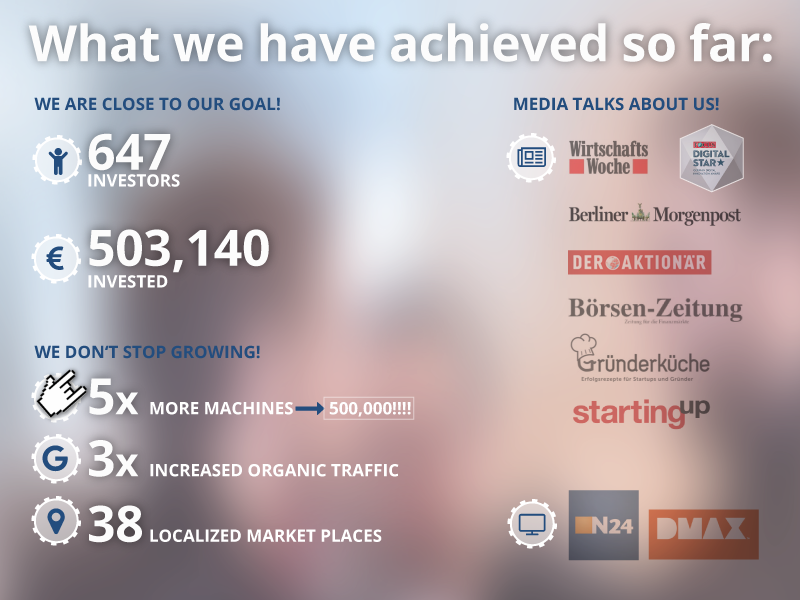 We made the first of the partnership agreements mentioned above with Europe's number-one company for ERP systems in the agricultural machine trading segment. This company, Farmpartner-Tec, will integrate TradeMachines into its software as a direct marketing option. In this way, the company's customers will not only become aware of TradeMachines, but they may also publish their machines on our platform – Europe's largest platform for used machines – with a single click. Through our partnership with Farmpartner-Tec, we will reach more than 2,000 potential customers.
Marketing partnerships like the one above are particularly important to us. Indeed, our experience has been that we have been able to reach additional customers through the new customers reached in the context of marketing partnerships.
Our second new partner and major customer is Proxibid, a U.S. trading platform specializing in used machines among other things. Because of this deal, TradeMachines will market all offers (i.e., more than 20,000 machines) on Proxibid. This will lead to measurable success immediately.
Best regards,
The TradeMachines team