Ahoy, dear Companists,
The time has finally come - you can now marvel at Jana, the virtual captain, live in shop windows. After Jana's first successful appearance at the EuroCIS 2016, she is now ready to start her real job. Since 18 March, visitors of The Q shopping mall in Berlin have been able to experience and interact with Jana in the shop window of DER Reisebüro's new concept store.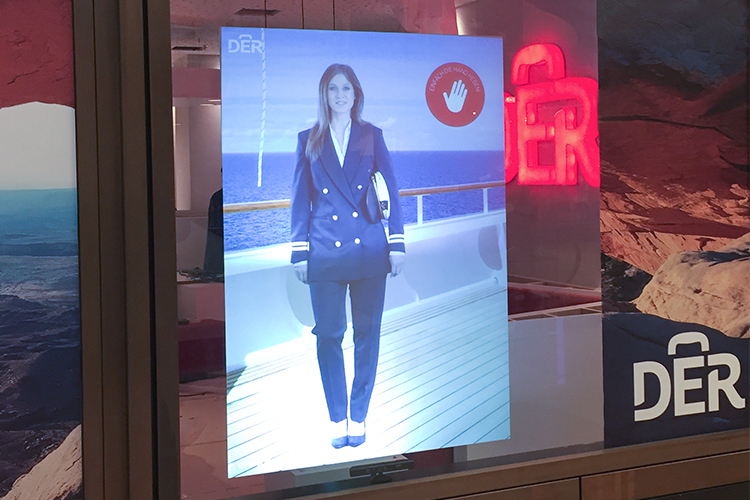 Jana is the first virtual promoter to work for a travel agency. In The Q, her job is to introduce passersby to the world of DER cruises. The accompanying photos, videos and the fact that she directly addresses potential customers rouse the travel bug. With the help of gesture control, users can get preliminary information about amazing cruises from the digital shop window. And after the window, the next stop is inside the travel agency where DER travel experts can help customers book their dream holiday.
The travel company is using the DER concept store to test its digitalization concept for its other offices. The service will be extended to additional locations and the content expanded in order to include family trips, beach holidays and city breaks. There are also some initial discussions centering on the idea of combining games with travel components. Passersby would be far more motivated to obtain further information from the travel agent if small prizes were involved.
As a virtual promoter, Jana is the ideal addition to the lively travel experts in the store. Thanks to the perfect combination of information, inspiration and entertainment, she draws a lot of attention in the shopping mall. Our virtual captain is looking forward to your visit, and we are very excited about the next developments of the Virtual Promoter in the travel industry. We will keep you, dear Companists, up-to-date on this subject!
Experience the Virtual Promoter live in numerous towns
LEGO and the Nexo Knights can now be experienced in the Main-Taunus-Zentrum in Frankfurt am Main, in Leipzig, and in Hannover.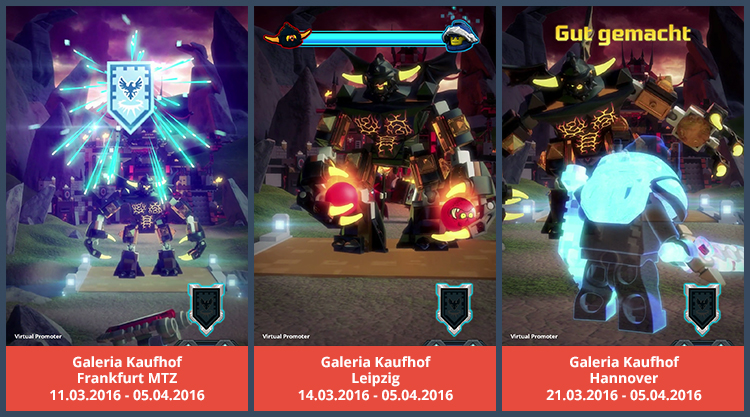 Best regards,
The ameria team