Dear Companists,
We, the ameria team, will soon present Virtual Promoter in several German cities during a roadshow, and we would like to invite you to attend this event. In mid-June, you will be able to experience Virtual Promoter and to meet the ameria team in Munich, Berlin, and Düsseldorf.
More precisely, you will be able to see Virtual Promoter from 4 p.m. through 9 p.m. on the following days and in the following cities:
14 June 2016 – Rilano 24|7 Hotel, Domagkstrasse 26, 80807 Munich
15 June 2016 – Scandic Hotel, Gabriele-Tergit-Promenade 19, 10963 Berlin
20 June 2016 – Innside Melia Hotel, Speditionstraße 9, 40221 Düsseldorf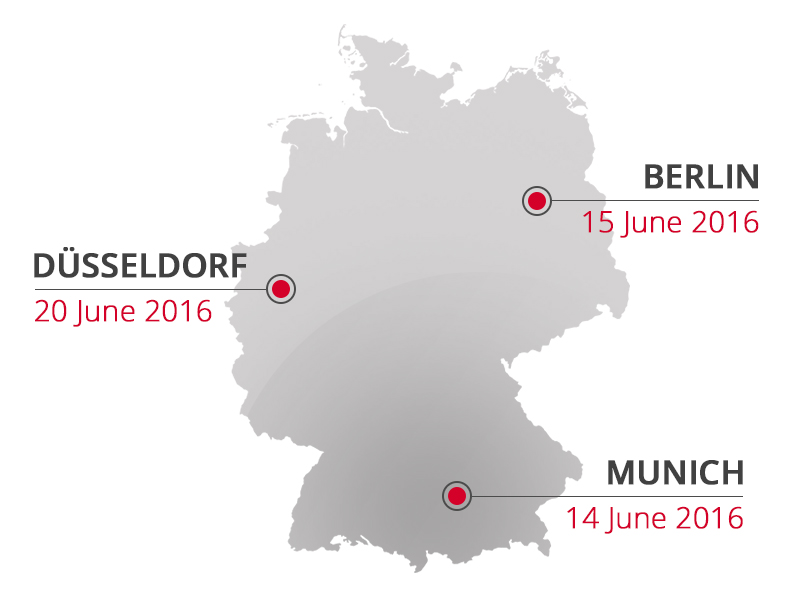 We look forward to meeting you and to introducing you to Virtual Promoter and our latest developments. These developments include, among other things, customized communication with users, which Virtual Promoter enables through the integration of beacons.
Customized Communication Thanks to Virtual Promoter
The world of commerce is changing, and retailers are constantly looking for better ways of addressing their customers. One of the most important trends is personalization, or alignment of offers and advertising with the customers' individual preferences. If retailers send too many irrelevant messages to customers, they risk that customers no longer look at or listen to their messages.
Virtual Promoter, our lively shop window, enables customers to interactively choose the content in which they are interested. Now, ameria has taken the next step. Over the past months, Dr. Marcus Götz, our company's head of research and development, and his team have developed a new feature in direct cooperation with an ameria client to enable true personalization in the shop window or inside the store. The market pilot phase is currently being prepared.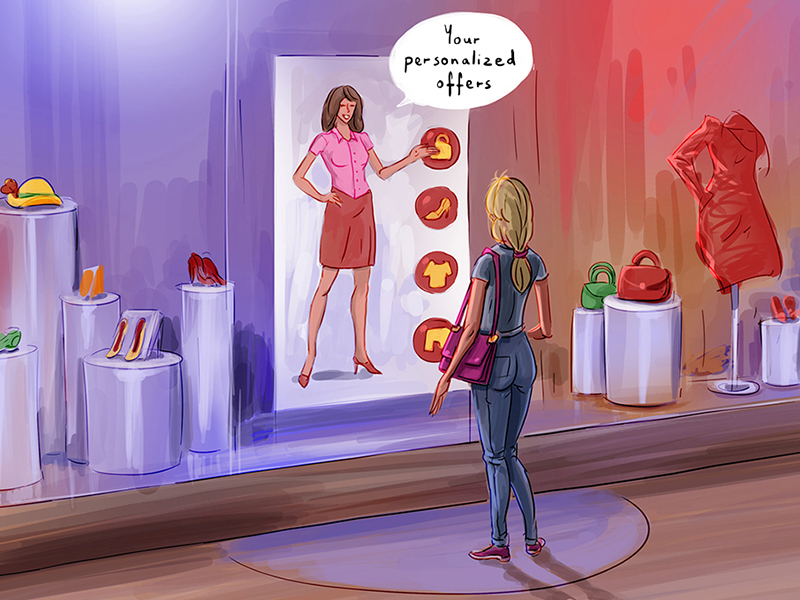 How does the new feature work? By means of beacons – small wireless devices – Virtual Promoter establishes a connection to customers' smartphones. Of course, Virtual Promoter does not establish this connection before customers have agreed to it. They can do so by using the retailer's smartphone app. The new feature can be added to any existing app and activated on customers' phones by Virtual Promoter.
Once connected, Virtual Promoter can access all stored information and present the customer with customized content based on known preferences and previous purchases. Virtual Promoter does so in a subtle and anonymous fashion, so other people do not notice that it is displaying customized content and cannot see any personal information of the customer currently using Virtual Promoter. All information is also stored in the smartphone app, thus simplifying shopping, for instance in the retailer's online store, at a later time.
In this way, stationary shopping experiences can be combined with the virtual world; retailers no longer leave their measures' effect up to chance, and customers benefit from a reduction of uninteresting information.
We look forward to sharing new innovations with you, the Companists, soon and to introduce you to Virtual Promoter during our roadshow!
Best regards,
The ameria team