Dear Companists,
The final phase of our Companisto campaign is in full flow. We have achieved a lot over the past months: targets, growth, Amazon Launchpad loves us and our partner Optivo has given us best practice status in their case study.
But that is by far not all.
In this final stage, we are extremely pleased to announce that with our successful strategic financing round, we have achieved another massive milestone!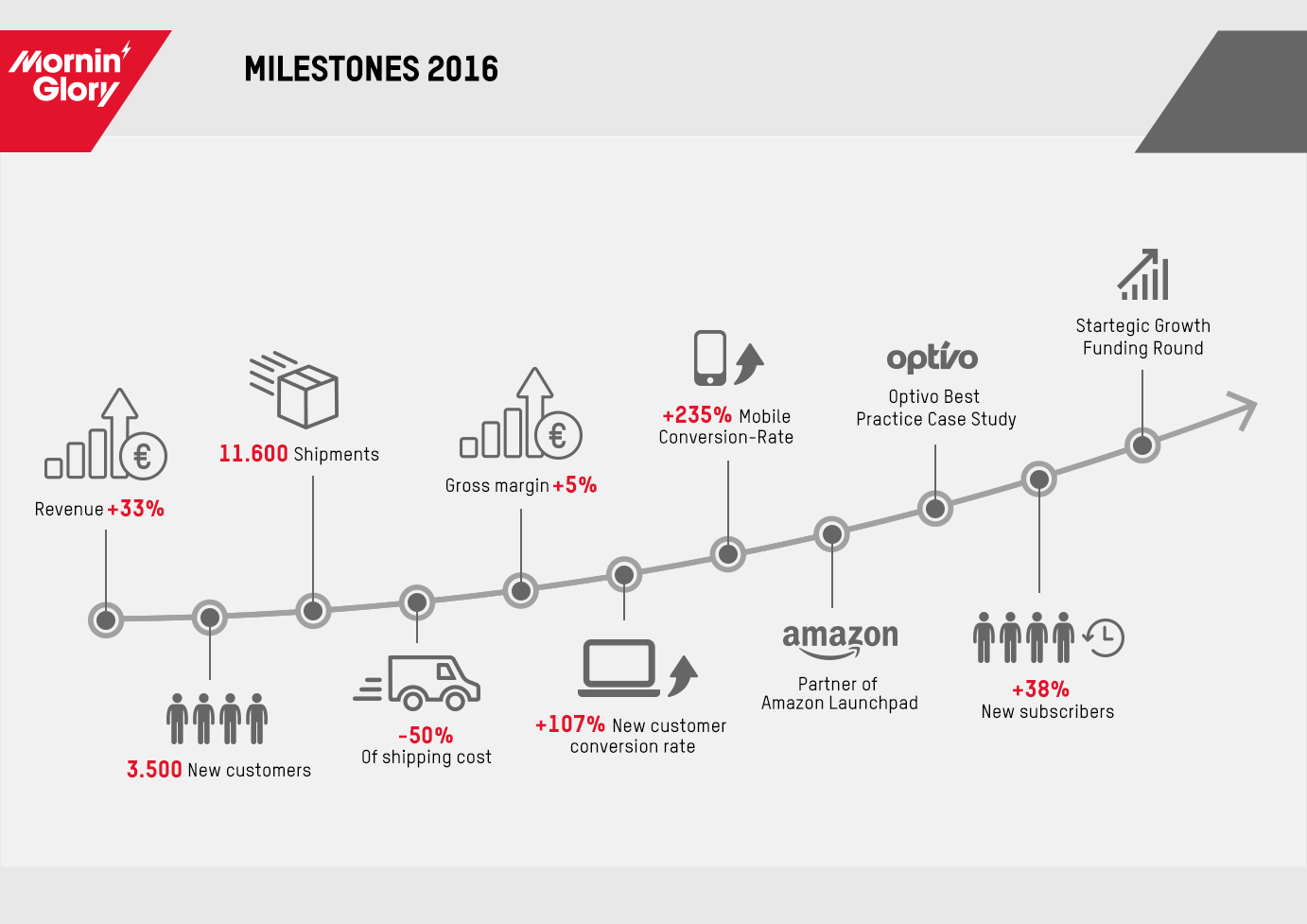 Growth Target Reached:
Throughout the course of our campaign, we not only achieved all our goals, but surpassed them. In February, we increased revenues by +33%, gained over 3,500 new customers and reached an all-time high of 11,600 shipments. Things are going according to plan.
Improved Margin:
In March 2016, we were also able to shave between 10% and 50% off the costs of several shipping methods. In terms of material, we were also able to achieve significantly improved conditions and increase the gross margin (pre-shipping) of our products by more than 5%. And this is just the beginning.
Increased Efficiency:
Over the past 15 months, we were able to increase the conversion rate of new customers (conversion rate: ratio between number of website visitors and number of acquisitions made on website) by 107% - including mobile devices (and their ever growing importance thanks to our TV campaign) then 235%.
Increased Number of Subscribers:
At the end of May, our number of subscribers exceeded our target by 10%. That's 38% more new subscribers than in the previous month. And we are looking forward to the end of June when we expect to make the current quarter the best one in Mornin' Glory's history.
Achieved Strategic Financing:
We recently concluded an additional financing round which, by means of additional investments, not only strengthened the trust of our existing investors. We are also really pleased to announce that Berlin-based media-agency DCMN (www.dcmn.com) has joined us as strategic investor and partner. DCMN will provide us with an extensive network and a large expertise in performance-oriented integrated marketing campaigns on a European level. This will fuel our development.
We have already laid the groundwork for further growth.
Thanks to all our Companists for your help. You've done a great job. We would be more than happy if you continued to support us in this final phase as well.
Best regards,
Ulli and Fabio