Dear Companists,
We are overwhelmed by the spectacular launch of our campaign. Thank you all for the positive feedback and support that you gave us via email, at events or in personal conversations.
The fact that our Kumpan scooters are being so well-received is the most important factor. Many of you would like to try a Kumpan scooter yourself to experience the unique feeling. And as we all know, seeing Kumpan scooters on our streets is the best kind of marketing there is. Therefore, we would like to thank each and every one of you for placing your trust in our business!
Kumpan electric – e-mobility start-up on Companisto
Last Tuesday, on 06 September 2016, the time had finally come: Kumpan electric was the first manufacturer from the e-mobility sector to launch an equity-based crowdfunding campaign on Companisto.
Shortly after the official launch of the campaign, we exceeded the investment threshold of € 100,000. After the first week, we had already left the quarter of a million-mark behind us. And it doesn't end here - our campaign is currently at € 317,860.
But we are not only thrilled by the investment amount; we are equally excited by the number of Companists that are interested in sustainable mobile solutions. At the end of last week, we registered more than 300 Companists who had invested in Kumpan. Thank you!
Kumpan at STHLM TECH FEST
From 04 to 06 September, our oldest Kumpan Patrick attended the STHLM TECH FEST - the most important start-up event in Scandinavia. He was invited by Peter Carlsson, the former Chief Product Officer & VP Supply Chain at Tesla Motors. Patrick discussed the future of mobility with him and other e-mobility entrepreneurs.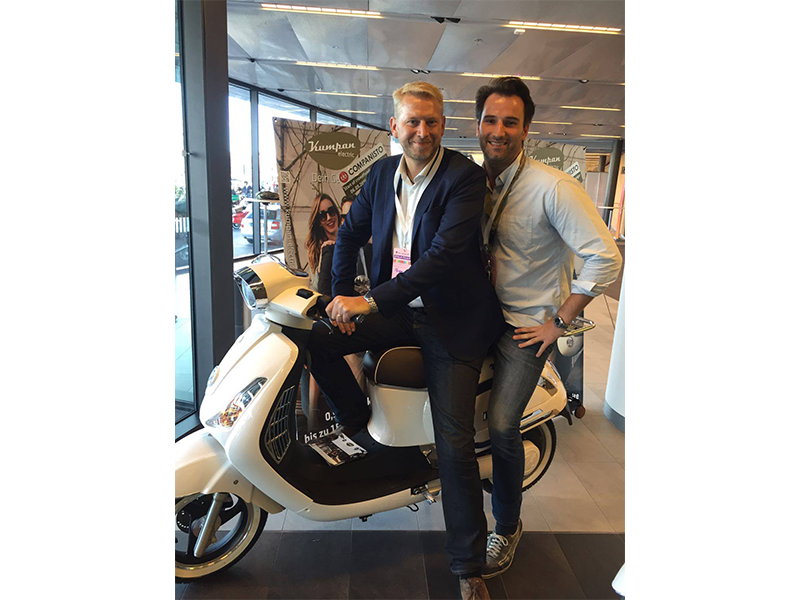 In addition to interesting topics and a fruitful exchange, Peter gave us his personal opinion on our idea and our scooters: "The three Tykesson brothers want to drive electric transformation of Scooters and other two wheel products. With such great products and hard work I think they have a chance!" We are very pleased to welcome Peter as a new Kumpan in our midst.
Together we can change the streets of tomorrow! Invite your friends, family and acquaintances to become a part of our Kumpan family. Follow us on social media such as Facebook, Instagram, Youtube and Twitter and play an active part in the electrical revolution.
Best regards,
Daniel