Dear Companists,
In our last update, we reported on the STHLM Tech Fest in Sweden. We would like to use this update to tell you about everything that has been going on at Kumpan in the meantime.
"Moving forward - with electricity!"
This year, we once again competed in the Bonn corporate run with this motto. In addition to our team's strapping calves, our Kumpan scooters also made a good impression. The scooters, which were used as safety scooters and track marshals, and that could be viewed at our booth on the Bonn Rheinaue, attracted a lot of attention.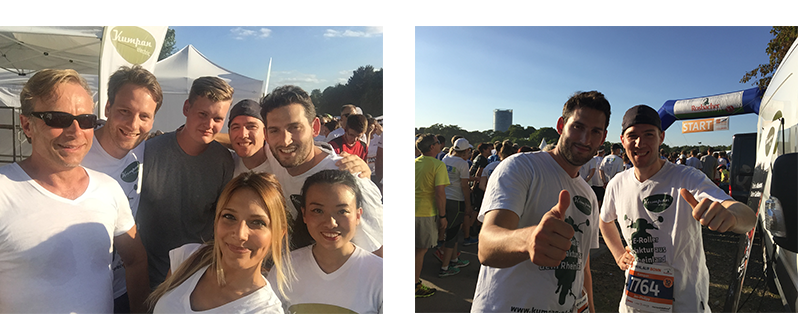 Thanks to the approx. 11,000 runners from the region, the event was the perfect opportunity to raise more awareness for our Kumpan scooters.
GreenDays 2.0 – REWE West Group
Once again, REWE West Group is organizing its annual sustainability trade fair, the GreenDays 2.0. REWE Group suppliers and partners will discuss their sustainability strategies according to this year's motto "We take responsibility together!". This year, Kumpan has been added to the list of selected partners.
Our Kumpan scooters and the sustainable and emission-free mobility approach have been very well received. In addition to REWE employees, the trade show will also be attended by press representatives, representatives of NGOs and invited guests from the region.
And as we also know that seeing Kumpan scooters on our streets is the best kind of advertising, we decided to raffle off a Kumpan 1950 Pure. We would like to congratulate the prize winner Leona once again. Congratulations!
Formula Student Electric-Team visits Kumpan Factory
This week, we were visited by students of the Bonn-Rhein-Sieg university. They are all on the university's motorsports team and build a new e-racing car each year. Due to the students' outstanding performance, they were able to reach the eighth place in this year's global ranking of Formula Student Electric.
The students are always on the lookout for new regional partners and sponsors in order to ensure their future positions on the top rungs. And they found their ideal partner in Kumpan electric.
Together, we want to use synergy effects to further promote our Kumpan scooters and the team's e-racer.
INTERMOT 2016 - Kumpan attends second largest motorbike trade show
Every two years, we have a home advantage with our booth at the INTERMOT motorbike trade show. Just around the corner from our factory, KölnMesse will open its doors for hundreds of thousands of visitors on 05 October. This is our third attendance in a row! Take a look at our video from the last visit.
Exhibitors from all areas will present their two-wheel innovations and products. You can find us in the E-motion hall.
We invite all Companists to pay us a visit at our booth in hall 5.2 B10/C11. Be among the first to experience our innovations for the upcoming season. KölnMesse will be open from 05 to 10 October 2016. We look forward to your visit!
Together we can change the streets of tomorrow! Invite your friends, family and acquaintances to become a part of our Kumpan family. Follow us on social media such as Facebook, Instagram, YouTube and Twitter and play an active part in the electrical revolution.
Best regards,
Daniel