Dear Companists,

We have good news for you: After a successful first financing phase, we have decided to extend our campaign by 30 days. But that is just one of the pieces of good news we have. We also want to report on two more developments that we are currently working on.
Today is the perfect day to review the campaign so far. At the same time, we hope to convince all undecided Companists to support homefort with an investment!
homefort keeps growing
Since the launch of the campaign on Companisto, we have doubled the number of existing customers and are generating twice as much revenue. To be more precise, we are now approaching 50 customers. At the same time, we were able to improve our closure rate. The number of visitors to our homepage has increased from 3000 to almost 6000 per month, and we are generating 200% more leads than prior to the campaign launch. Furthermore, we have already written approx. 150 quotes. However, it currently takes numerous weeks for the customer to make a decision.
By the way, almost all requests are generated via our website. The sales partnerships that we negotiated in the last weeks are still warming up.
Good partners are one of the keys to success. And that is why we are focusing very strongly on partnerships. We are currently also optimizing sales channels via online marketing. Next week, we will launch our new sales channel via the Outbound Call Center and the new affiliate program.
Market entry barriers naturally exist, but homefort has what it takes to overcome them. Our goal is to win over at least 500 new customers until the end of year - and thanks to our current partnership developments, we are fully on schedule. Furthermore, we expect an increased demand for burglary protection due to the fall season. We have therefore already laid the groundwork for further growth.
New cooperation partners: asspario Versicherungsdienst AG
Today, we would like to introduce our new cooperation partner, asspario Versicherungsdienst AG. This company adds innovative, efficient and inexpensive products to the range offered on the German insurance market. Our cooperation partner's brand promise is "Different - but likeable":
According to chairman Frank Löffler: "homefort and asspario truly complement each other. As the specialist for innovative property insurance concepts, we offer a coordinated customer benefit with the homefort Smart-Home-Security."
We are looking forward to a successful partnership!
homefort presents new homepage
We are very happy to finally present our new internet presence. Our website in the new design is more clearly arranged and provides insights into our range of services.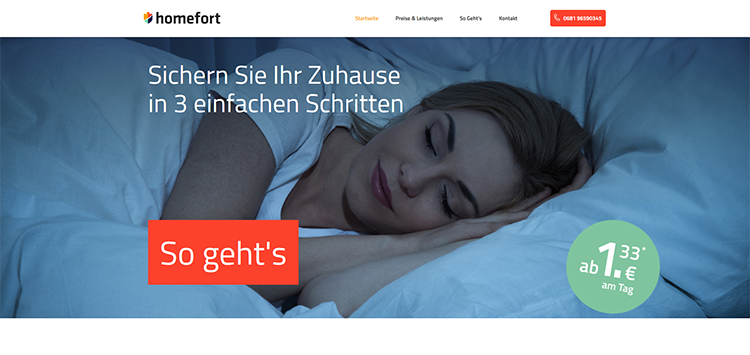 Enjoy exploring our new homepage!
Events, trade shows and workshops
We have been on tour a lot since the launch of the campaign. Our team was at the Start-Up Night and The Future Of Housing And Living–Event in Berlin. Furthermore, we also participated in the 2nd DEHOGA-Marktplatz in Saarbrücken.
As of tomorrow, we will be at the trade show security essen to meet new suppliers and find out about new developments, potential partners and products. In addition, we will be participating in the DKM, the most important trade show of the insurance and finance sector, in October to hold further cooperation negotiations with financial service providers and cooperation partners.
We are very optimistic that we will achieve further interesting milestones in the next 30 days. We look forward to your commitment and active support in the second phase of the campaign.
The latest homefort news is available in our social networks. Visit us on Facebook and Twitter. Thanks in advance for your support there!
Your team homefort