Dear Companists,
Now that the third quarter of 2016 is over, we would like to provide you with some detailed insights into Beach-Inspector's development in 2016.
Below, you can see how our reach (i.e., the number of Beach-Inspector.com users) and the revenue resulting from this reach have developed on a quarterly basis.
User Development for Q1 through Q3 2016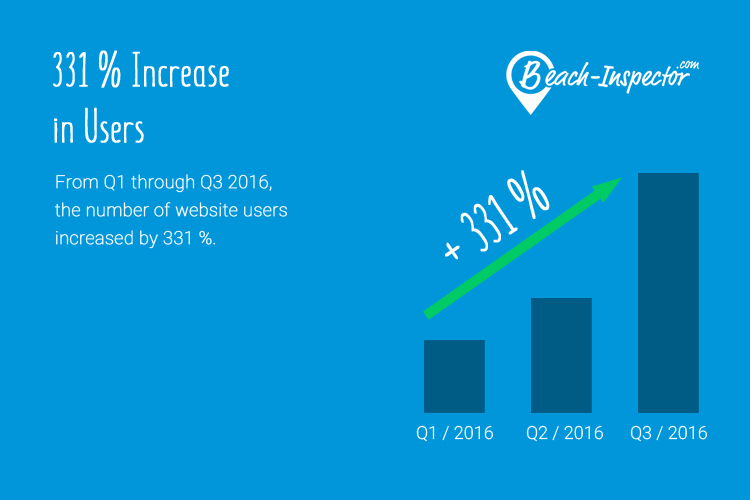 While our reach (the number of Beach-Inspector.com users) grew by 68 % from Q1 through Q2, we saw 156 % growth from Q2 through Q3 2016. Consequently, total growth in the first three quarters of 2016 amounted to 331 %.
Revenue Development for Q1 through Q3 2016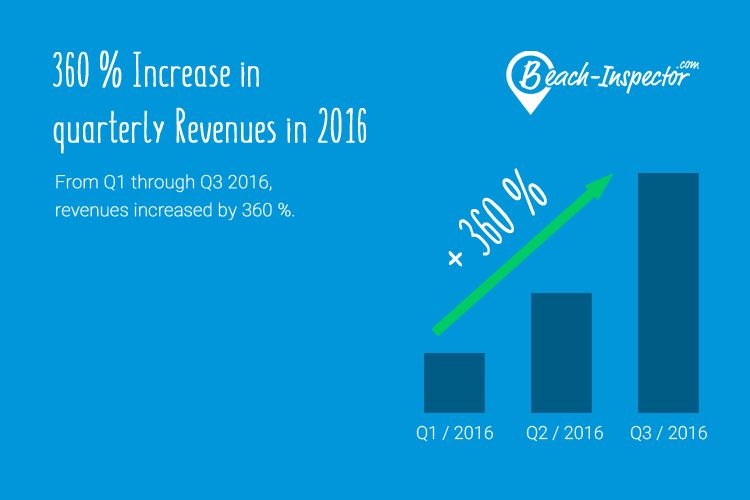 With regard to our revenues, the increase was even more significant. Indeed, the increase in revenues from Q1 through Q2 amounted to roughly 115 %. From Q2 through Q3, revenues grew by another 113 %. Therefore, revenues have grown by a total of 360 % in 2016 so far.
9 % Increase in Revenue per Website User
The statistics above illustrate that we have managed to increase the revenue per website user by 9 %, but this is only just the beginning. We are currently working on a new hotel module, on an expansion of the touristic services we offer, and on a more professional marketing structure for Beach-Inspector.com. This expansion of our service will help us generate a much higher revenue per website user.
As we have now reached the second half of our Companisto campaign, we would like to ask you for your support once again. Please share our Companisto campaign with your friends and acquaintances and help us continue the Beach-Inspector success story. Thank you all very much!
Best regards,
Thomas, Kai & Anton