Dear Companists,
Once Daniel had returned from his vacation, the three of us came together for a meeting and decided to extend our highly successful Companisto campaign. This decision was due largely to the positive feedback we have received, our brand's increasing popularity, the large number of investors during our campaign, and the attention we attracted in the media. In total, roughly 900 Companists have invested approx. €650,000 in Kumpan scooters, in our business, and in low-emission mobility.
Now that we have extended our campaign, we have more great news for you! We are pleased to announce that we have agreed on a six-figure investment with VMU Venture-Capital Mittelrhein Unternehmensbeteiligungsgesellschaft mbH and with S-Innovations-Beteiligungsfinanzierungsgesellschaft Rheinland-Pfalz mbH.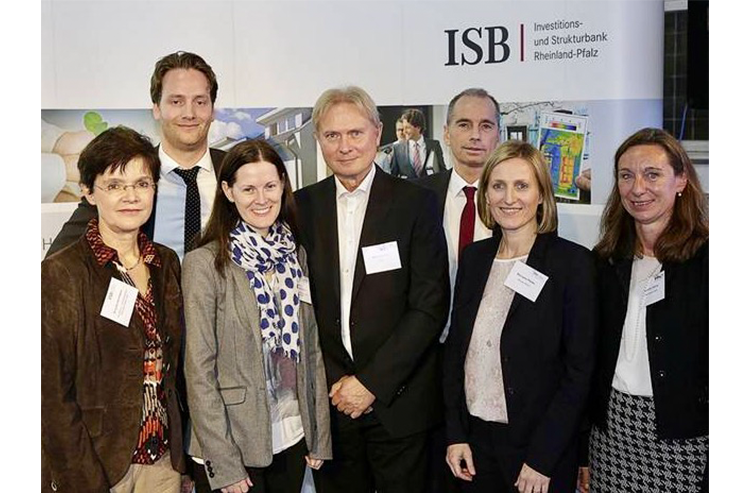 In October, the grants committees of Venture-Capital Mittelrhein and of S-IFG approved a loan in the mid-six-figure range. The loan will be granted for a period of 10 years and is meant to help us finance our planned growth in the coming years. As a result, the two VC companies will increase their previous investment in Kumpan electric (e-bility GmbH) over the long term. We are glad about our long-standing positive partnership with ISB and the confidence that has accompanied this partnership so far.
Kumpan electric Attends Electric Mobility Conference in Berlin
From 07 through 08 November, we will present our Kumpan scooters at Vernetzungskonferenz Elektromobilität, an e-mobility conference in Berlin. This event hosted by the Federal Ministry for Economic Affairs and Energy serves as a national electric mobility think tank. In addition to exciting presentations by experts and the opportunity to network, we will have the opportunity to introduce our innovative mobility concepts. More specifically, we will focus on our 1950 e-kickboard with its new electric drive concept. Our 1950 model is the first kickboard ever that combines a conventional throttle with a push feature. Indeed, riders accelerate the kickboard by pushing it off the ground.
Apart from the kickboard, we will present our innovative battery concept, the Kumpan Kraftpaket 2.0, at the conference. The new technology makes riding a Kumpan scooter easier, more convenient, and more flexible than ever before. Through GPS-powered technology, users will be able to retrieve vehicle data, control features of the Kumpan scooter, and run complex error analyses in the future. Consequently, not just the scooter itself possesses an interface to the outside world, but also the battery – the heart of every Kumpan e-scooter.
Start-up meets SME – Minister-President Malu Dreyer (of the German state of Rhineland-Palatinate) met with Kumpan electric
Under the motto of "start-up meets SME," traditional SMEs met with innovative start-ups on 02 November. While these two worlds could not be any more different, they may significantly benefit from each other. Malu Dreyer, Minister-President of the German state of Rhineland-Palatinate, supported the event. We also attended the event with some of our Kumpan scooters and met many interesting people.
Kumpan electric Launches Marketing Campaign with Andechser Natur
On 01 November, we launched our joint marketing campaign with organic dairy factory Andechser Natur. For a period of three months, we will raffle off three of our scooters through various channels. Andechser Natur will advertise the campaign on over 2 million glasses of yogurt and at various points of sale. The campaign will also be accompanied by various activities online and on social media.
For us, the partnership with Andechser Natur will be a nice way of raising awareness of Kumpan electric within a target group that is highly interesting to us.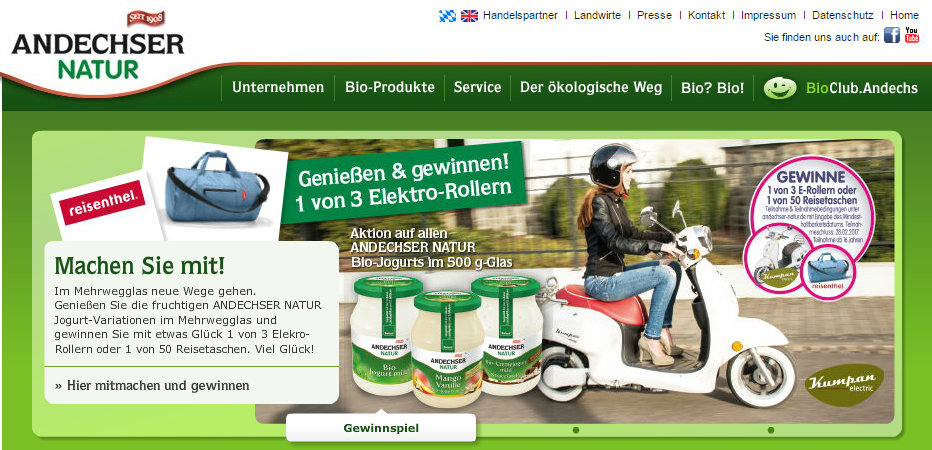 In addition to numerous events and campaigns, we want to strengthen our market position and expand to more countries with your help. So let's shape the roads of tomorrow together! Please invite your friends, acquaintances, and business partners to join the Kumpan family as well. Follow us on social networks like Facebook, Instagram, YouTube, and Twitter and experience the electrical revolution yourself.
Best regards,
Daniel