Dear Companists,
Welcome to update #11. Time to present our October numbers and to inform you about some of our current projects.
October revenue 46,5% above plan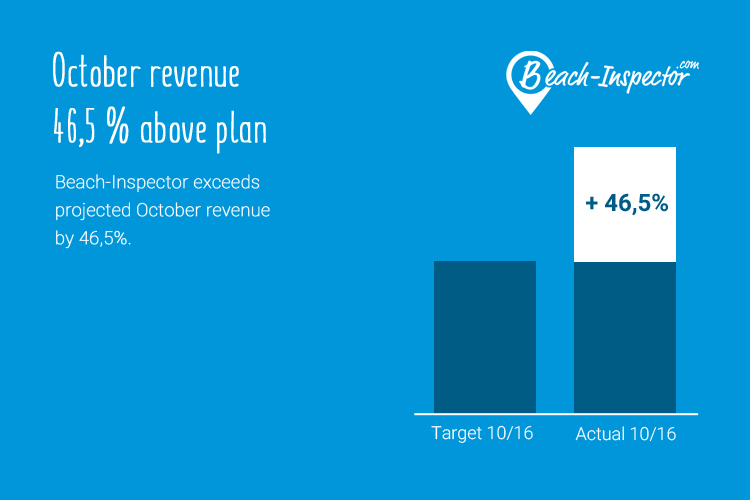 In October we outperformed our revenue target by 46,5%. An Increased click-out rate, a positive traffic evolution and the issuance of our first Kenya invoice are the main drivers behind this great result.
Projects for early 2017 already in the making
We are currently working on many projects and on the optimization of our website, which shall contribute to a more advance product and to achieving our traffic and revenue goals in 2017.We would like to briefly share 3 of those projects with you.
New Backend-System

In a mere 10 days our first own backend (database with individual input mask) will be completed. This is a huge step forward for us and enable us to create individualized website modules and to provide the tourism industry with tailor-made offerings.
New holiday offering module planned for Q1 2017
Additionally we are intensively working on a new holiday offering module for touristic partners. The new module will contain several improvements vis-à-vis the current one. On the one hand the new module offers our users added benefits through new functionalities. On the other hand the new module will enable us to integrate more than only one partner per holiday destination. Alongside an enhanced usability, the main goal of the new module is to increase conversion rates, which constitute a considerable revenue lever.
New: Beach holiday spots on Beach-Inspector
Last but not least, we decided to also inquire beach holiday spots in 2017. We are firmly convinced that the combination of beaches and coastal holiday spots/cities will bring an added benefit to our users and will further boost our SEO visibility.
Speaking of holiday spots – on the weekend our team will depart for Kenya. In course of our inquiry of the top 25 beaches of Kenya we will also – for the first time – inquire beach spots and cities. We will start sharing our first impressions early next week on our Facebook-Page.
Have a great weekend,
Anton, Kai und Thomas