Dear Companists,
It's finally happened. Our equity-based crowdfunding campaign has reached the €100,000 mark and we've secured our financing. For this, we'd like to extend our gratitude to you for showing us your support. We plan on using our invested capital to continuing developing the Buddy-Watcher. The device's size and leader-function are to be optimized.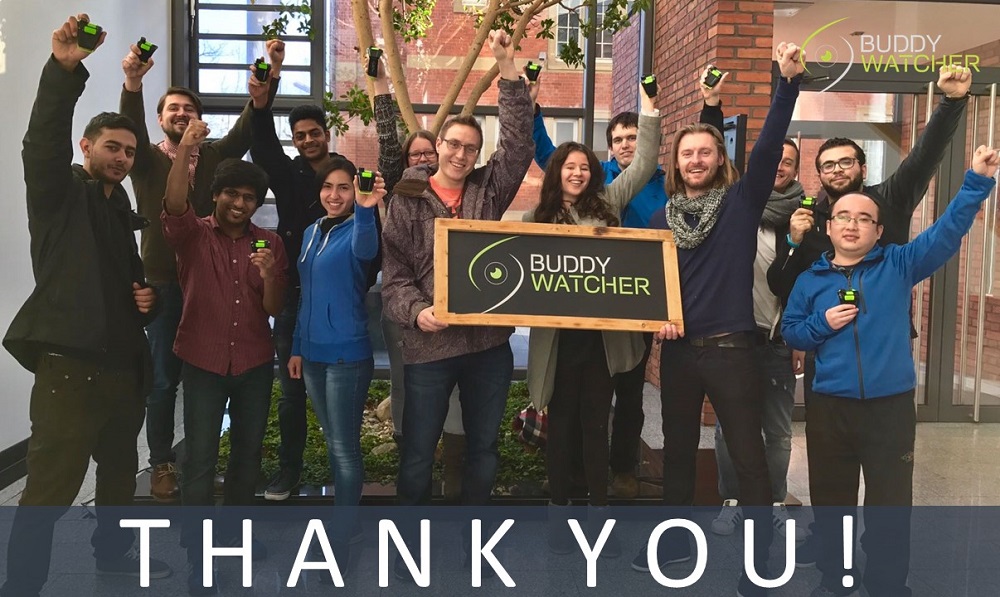 We hope that by reaching this goal that we're able to convince additional Companists to become a part of Buddy-Watcher. In total, we hope to raise a total of €300,000, so we still have a way to go before we reach the end of our campaign!Is the 80m reach enough for standard dives?
Buddy-Watcher glaldy answers all your questions
Is the distance of the Buddy-Watchers with 80 m enough for standard diving?
Generally, divers should make sure to not stray too far away from one another. Divers should always maintain a distance that allows them to stay within reach of their diving partner or provide assistance to them should the need arise. This is why a distance of 80m was devised for free divers; for this discipline, it isn't uncommon for divers to become separated by large distances within a short period of time.
In 2017, a Boat Unit is going to be introduced that will enable diver-to-boat communication. This unit has a reach of 400-500 m. This enables entire diving groups to be called back to the boat should swells become too intense.
Buddy-Watcher's technology
Which components are patented?
The Buddy-Watcher's patent features multiple claims.
Main claim: a special vibration coupling located on the forearm/upper arm. This is achieved through the vibration motor's positioning and the Buddy-Watcher's unique buckled shape that allows it to be easily worn.
Additional claims: vibration signal, distance alarm, emergency signal / panic button, navigation with direction display.
A more precise description can be found here.
W

hat advantages does the technology offer for driver-assistance applications?

Ultrasound sensors have been used for this purpose for years.
The goal here was to realize a park distance control system for cars. At the moment, there isn't any such system on the market that enables sensor evaluation behind bumpers. This means that the ultrasound sensors are currently visible as small buttons on the bumper's exterior. With our technology, we've been able to create a prototype that has sensors located behind the bumpers. This development enables more freedom for designers, enhances the product's aesthetic, and protects the bumper, all without increasing production costs.
Is there a maximum number of devices that can be deployed underwater at the same time? Regarding the Buddy-Watcher's long-term goal to become a standard piece of diving equipment: will there soon be some spots in which there are 30 or 50 Buddy-teams in the water?
Buddy-Watcher's current system is deployable with up to 20 different pairs (40 devices). In order to minimize the complexity of production, this number is currently limited by the total amount of issued IP addresses. These parameters can be adjusted at any time.
Communication via ultrasound
How reliable is communication via ultrasound?
What happens if there are obstacles in the way?
How do organisms sensitive to ultrasound waves react to this technology?
How can one ensure that the wrong signal isn't sent?
Does the sender receive feedback when the signal arrives?
Ultrasound communication requires a direct connection. By adding a ceramic ring to our sensor, we're able to project a 360° transmission within a three dimensional space. Obstacles, such as coral and fish, therefore are not a problem. Cliffs and fixed objects, like the sides of ships, reflect the signals, meaning that delays or signal loss may occur. Tests have shown that signals are able to function even when emitted from behind cliffs if signals are reflected onto the water surface.
Feedback: normally the diver that received the signal sends back a short 'OK' response.
Organisms: the auditory perception is similar to that of humans. Most known fish species are able to pick up on sounds occupying a frequency range of 1000 Hz at sound pressure level between 60-80 dB. Only a few species are able to hear above 1000 Hz.
The Budy-Watcher operates between the ranges of 60,000 - 70,000 Hz, which is a very low power level – the sound emissions are essentially nothing more than an underwater whisper. In a preliminary, non-binding statement Subacoustech Environmental Ltd. offered the following observation on the Buddy-Watcher: "….through its low energy consumption and high frequency, it's improbable that it irritates fish. This is the case for most species…"
According to GEOMAR, the Helmholtz center for Ocean research in Kiel, sonar waves emitted from ships during military exercises are much more dangerous. Through their high output, the acoustic center and therefore the orientation of many marine organisms can be damaged. Beached whales can often be spotted shortly after military exercises. Deep frequencies emitted from drills, such as those used to install oil rigs, may also have a similar effect on these animals.
What's more, Eli Martinez from Sharkdiver Magazine has reported on his experiences with the Buddy-Watcher while diving with sharks. According to his statements, he wasn't able to observe any reactions with the animals while using the device; the device neither deterred nor attracted them.
Essentially, it can even be claimed that using the Buddy-Watcher causes even less noise to be generated in the water. When concerning the areas of fish and marine mammals that are sensitive to noise, the Buddy-Watcher is hardly a disturbance at all when compared to existing devices.
Additional to info on the SWOT analysis: Risks, key point 3 "Customers gather much information before purchasing technical products"
Here, we're indicating that the customer journey - from the customer's initial encounter with the product to purchase – can take up to 6 months. This fact influences the effectiveness of marketing campaigns, which do not result in immediate purchases. For this reason, we need to create more and more touch points between the product and the client in order to make the decision-making process easier for the customer. This has an effect on the liquidity given that these marketing activities have an immediate effect on costs; however; revenue is expected to follow with some delay.
Additional information on our investor and team size
All investors preside over atypical silent holdings, which means they do not have any co-determination rights and are not recorded in our corresponding commercial register. The contract is only limited to an internal relationship between investors and the Free-Linked GmbH and amounts to 23.25% of the company shares. This information is available in the section "Company evaluation / investors".
We have 6 full-time employees. What's more, we have two part-time coworkers in production as well as an average of 4-6 interns; these normally work in the company for a period of 6 months.
Kind regards,
Your Buddy Watcher team