Dear Companists,
In the upcoming weeks the founder and managing director of Buddy-Watcher, Michael Feicht, will travel across Germany to introduce our crowdfunding campaign. He will answer all your questions and will be ready to discuss various topics with Companists in a relaxed atmosphere.
These are the tour dates and places of the roadshow; which will be held namely from 17.00-21.00.
Monday, 23.01.2017: Schmalznudel – Cafe Frischhut; Praelat-Zistl-Str. 8 in 80331 Munich
Tuesday, 24.01.2017: TAO´s Restaurant Lounge Bar; Augustinergasse 3 in 8001 Zurich
Wednesday, 25.01.2017: Hochschule Pforzheim; Tiefenbronner Straße 65 in 75175 Pforzheim (room W2.2.01)
Monday, 30.01.2017: Lemon Lounge; Am Wall 164 in 28195 Bremen
Tuesday, 31.01.2017: Kopiba; Beim Grünen Jäger 24 in 20359 Hamburg
Wednesday, 01.02.2017: St. Oberholz; Rosenthaler Str. 72A in 10437 Berlin
Thursday, 02.02.2017: barhundert; Stiftstraße 34 in 60313 Frankfurt am Main
Friday, 03.02.2017: Cube; Kleiner Schloßplatz 1 in 70173 Stuttgart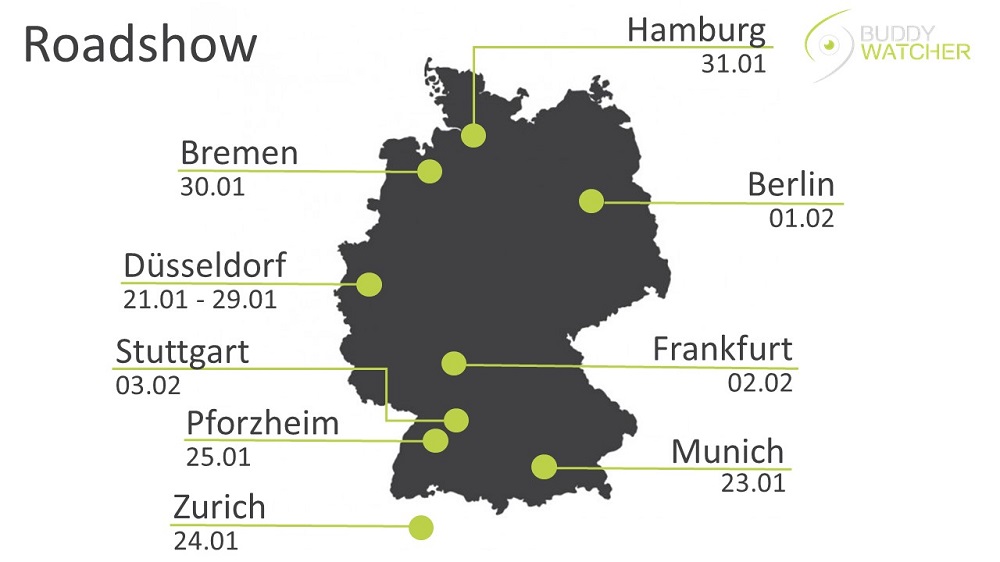 We are very much looking forward to meeting you in person and to exchange with all of you numerous topics.
Buddy-Watcher at the trade fair boot Düsseldorf 2017
For all those who cannot wait to meet us in person, you should come to the 'boot' in Düsseldorf. At the world's biggest water sports trade fair the team of Buddy-Watcher has to be present. You will find our booth G26 in hall 3 from 21.-29.01 where we will be waiting to answer questions from exhibitors.
Apart from the Companists, we are also expecting several visitors interested in Buddy-Watcher that will make the trade show even more successful than last year.
Best regards,
Your Buddy-Watcher Team