Dear Companists,
One thing remains: Our enthusiasm and thankfulness for your support. Our development phase, on the other hand, is continuously changing and evolving. In our last update, we gave you an overview of our pending operational range. Today, we'd like to offer you a concrete view of how things stand.
ACADEMY The most important area for us at the moment is the build-up of the Academy. This is due to the fact that we will generate our first revenue this year. To this end, some formal criteria need to be filled. Over the past weeks, we've been taking part in a workshop on how to prepare for the authorization as a provider for training and educational measures. Over the course of this period, we familiarized ourselves with many different abbreviations: AZAV, FB, FKS, FbW, BDKS. But these "dry" topics are exactly what make up the foundation on which our future revenue streams are to be based. Even more important: Our observations and business case turned out to be conservatively and solidly calculated. What's more, we're in good spirits, as all three of diversicon's areas – the Academy, personnel placement, and accompanied temporary work and job coaching – will partially qualify for the funding from the Accreditation and Authorization Regulation for Employment Promotion (AZAV) . Our previous thoughts on the content-related conception and evaluation of our training program were well received by our consultants.
One thing is for certain: diversicon doesn't just stand for its motto, different is normal, when it comes to its logo —it internalizes different roles as well: For the Employment Agency and all of involved participants, we're an educational provider; for companies looking for skilled workers, we're going to establish ourselves as personnel service providers and so remain true to the principles enshrined in our status as company with a social benefit. This makes our work both challenging and diverse.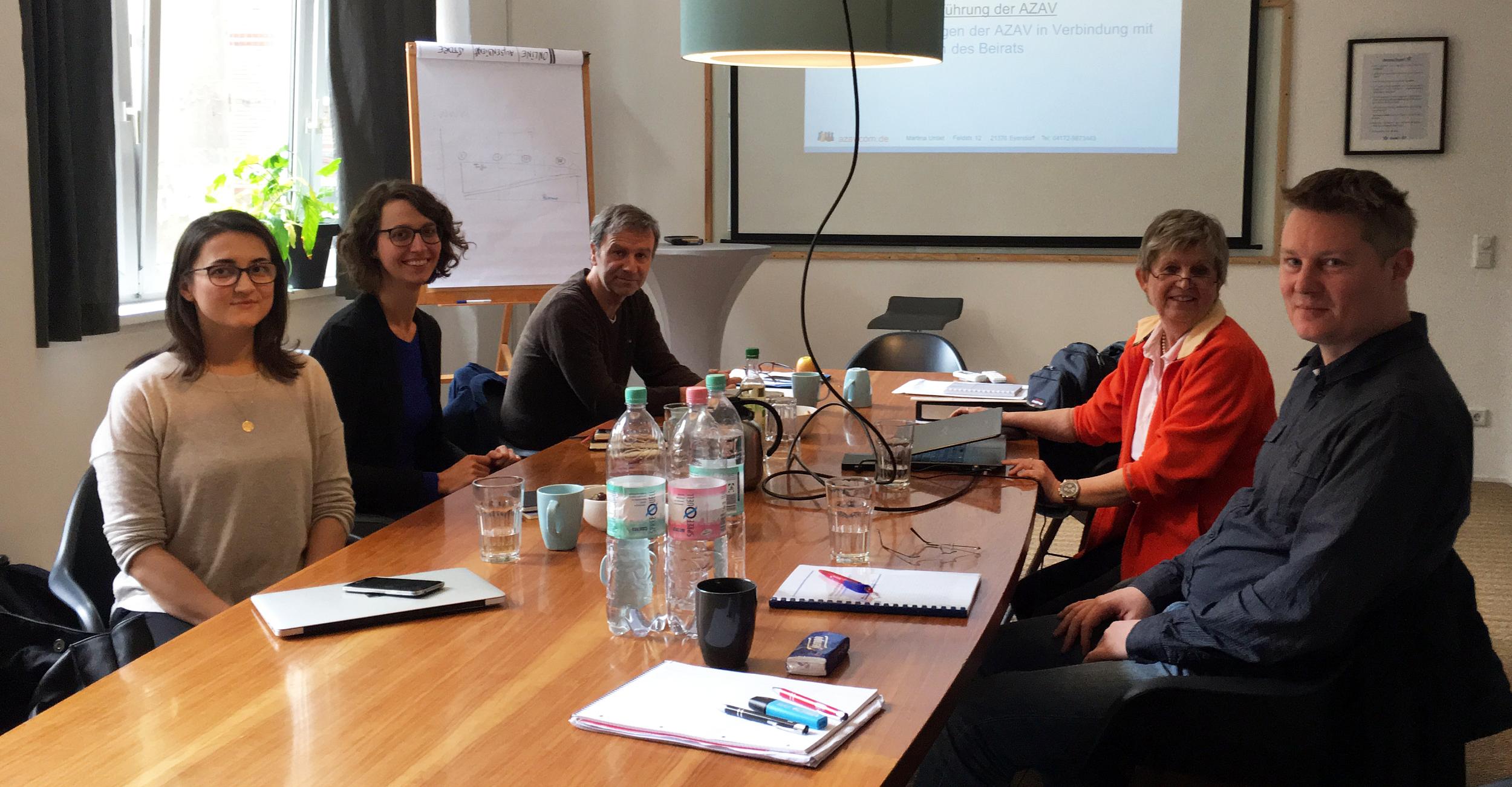 Renata Wacker, Sally Ollech, Dirk Müller-Remus, Martina Untiet (external consultant), and René Kuhlemann from the diversicon gGmbH team (from left to right)
APPLICATIONS What we're particularly excited about: We're receiving many applications from Academy applicants. What's even more important, in our view, is that we're working on the content of our autism-specific training while respecting social and methodical expertise and at the same time are adhering to the formal criteria from the employment agency. What's more, we've also taken care to establish relevant IT solutions, like a CRM – we're headed down a good path in terms of both content and infrastructure.
SOCIAL MEDIA For a few days now, we've been present in the social web and look forward to your support! You can find us now on Twitter & Facebook, and we also have a company profile on LinkedIn and Xing. Please network with us! In the company weeks, we plan on initiating a small relaunch of our Website, which was particularly focused on our equity-based crowdfunding campaign at the time of our launch.
PARTNER NETWORK Our network in the real world is also constantly growing. Following this, we'll be participating on the German Foundation Day in Osnabruck in the coming week. #DST17 At Europe's largest conference for foundations, accelerators and individuals representing a wide range of causes will be meeting one another in order to exchange ideas and network. We recently joined the Association of German Foundations in order to get involved in the professional exchange and network it offers. This represents just one activity regarding the build-up of our diverse partner network.
A NEW OFFICE For this transitional period, we found a "nest" in Little Bird GmbH's office in Prenzlauer Berg, Berlin – many thanks! Our future office spaces will have to fulfill many different criteria: A working environment suitable for our Academy participants and a quiet working space that is well connected to public transit and is (and will remain) affordable. At the moment, we're weighing many different options and are vigorously working on a long-term solution.
In the name of our growing team, we thank you for your support. Without you, we wouldn't be where we are today!
Kind Regards,
The diversicon Team
Dirk Müller-Remus und René Kuhlemann