Dear Companists,
It's on: After having successfully installed Virtual Promoter in the HARIBO City Store in Bonn beginning of May, the Gold Bear is now travelling through Germany for a few months! Starting today Virtual Promoter is on a roadshow through 15 GALERIA Kaufhof department stores all over Germany. Our first stop is in the capital.
Here's where you can find Virtual Promoter for one or two weeks:
► 22. May – Gropiuspassagen, Berlin
► 29. May – Alstertal-Einkaufszentrum, Hamburg
► 06. June – Ernst-August-Platz, Hannover
► 12. June – Bismarckplatz, Heidelberg
► 19. June – Bahnhofstraße, Ulm
► 26. June – Obere Königsstraße, Kassel
► 03. July – Kaiser-Joseph-Straße, Freiburg
► 10. July – Bahnhofstraße, Saarbrücken
► 17. July – Kirchgasse, Wiesbaden
► 24. July – Am Rathaus, Chemnitz
► 31. July – Neumarkt, Leipzig
► 07. August – Wird noch bekannt gegeben
► 14. August – Remigiusstraße, Bonn
► 21. August – Am Wehrhahn, Düsseldorf
► 04. September – Eberhardstraße, Stuttgart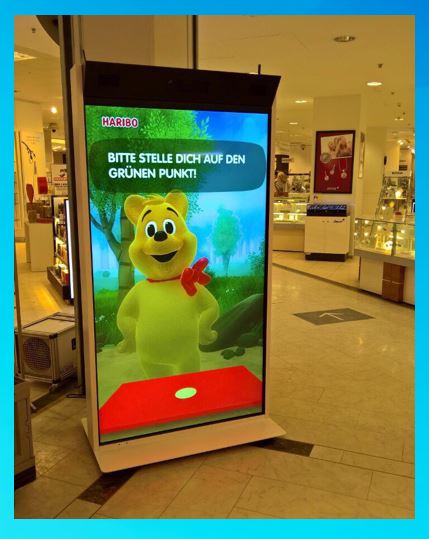 Gold Bear on Virtual Promoter at GALERIA Kaufhof in Berlin (Gropiuspassagen, Johannisthaler Chaussee 298, 12351 Berlin)
Together with the HARIBO Gold Bear, we are looking forward to every visitor. The Companists are obviously particularly welcomed. Try to beat the high score, helping the Gold Bear to catch his friends or take a picture with him. You'll also find the latest products from HARIBO there. We've already tested them extensively and can absolutely recommend them.
The HARIBO Roadshow is the start of a season of many promotions this year. Campaigns for different customers right up to Christmas are already being planned. We'll keep you in the loop!
Your AMERIA Team