Dear companists,
In our 2nd update, we would like to send you greetings from our workshop and talk to you about the topic of displays.
Displays on the test stand at CAR2AD
With a view to preparing our first planned series production, we are testing all those components which we are looking to construct. Last week, yet another delivery of new displays arrived, which we then tested from top to bottom. The market for digital signage products is growing continuously and we are always anxious to implement the latest and greatest technology. As soon as there's something new - we order it. At 2500 cd (candela is a unit of measurement for light intensity), these emit the maximum permissible limit of brightness permitted in an urban area. With this, we are now at the same standard as is possible with fixed digital surfaces.
It must be said that this is only necessary on extremely sunny days when this dictates the brightness required, as any mobile phone user will know. On average, the 1000 candela displays previously used are very much sufficient. What is especially important is that anti-reflective panes are used.
Commmencement of the distribution collaboration with the Tagesspiegel
In terms of distribution also, this week we have again made a major step forward. Yesterday, staff training took place for our event product with the advertising business sales team in Berlin. Over 30 people were instructed by us with regards to the functionalities of our amended Car2AD boards, in order that they would be able to offer these to their local customers for special events alongside advertisements in the daily newspaper and on the Tagesspiegel on-line channels.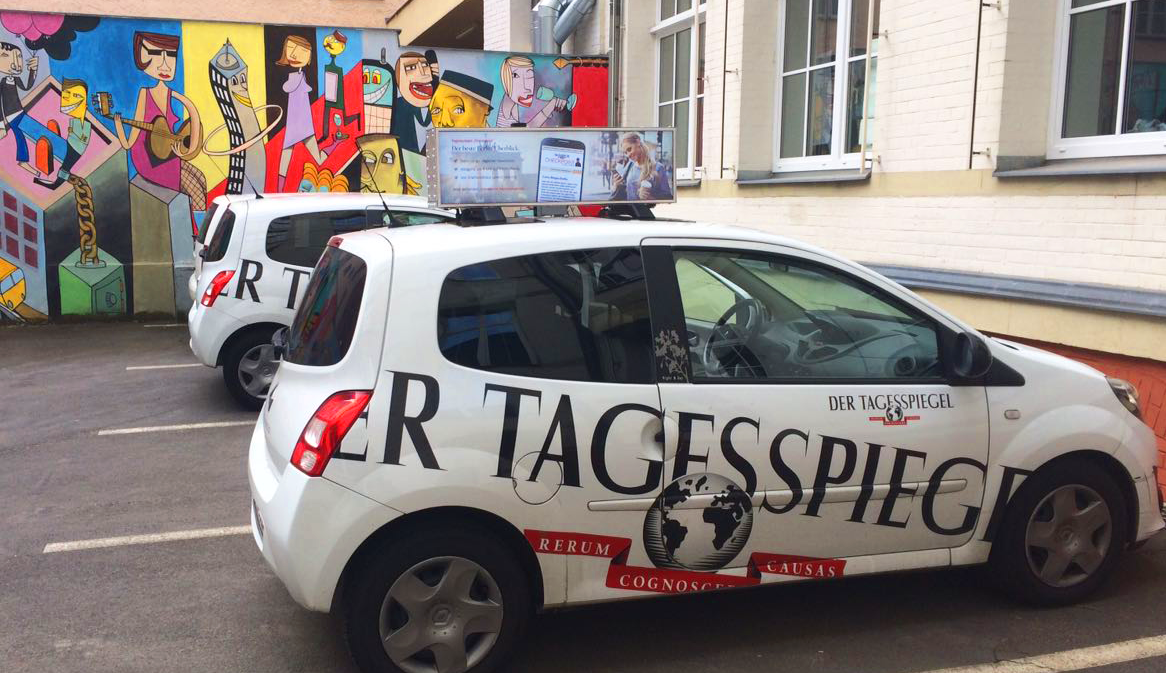 Because the issue of ambient advertising is always a difficult one for small and medium-sized enterprises. Until now, it was usually only possible to book this by means of the sort of poster campaigns or digital display advertising that is only possible with very large budgets. These are very inflexible and must be booked for longer periods of time (10-11 days). So if, for example, a weekend furniture store opening were to be advertised via a special campaign, this - according to feedback from the Tagesspiegel sales employees - was previously not actually possible for these customers.
For this reason, we are pleased to now be able to offer local Berlin advertising customers a flexible and significantly cheaper option than was previously possible in terms of ambient advertising. And, especially in combination with the advertising opportunities provided by the Tagesspiegel, the doors are now wide open for small, medium and large companies in Berlin with regards to means of advertising.
We are very much looking forward to the collaboration and to the next order this coming weekend.
Best regards from your CAR2AD team