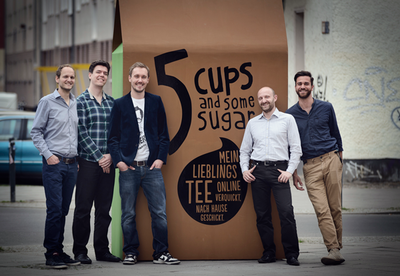 Liebe Companisten,
wir sind sehr beeindruckt, dass die Crowd so kräftig in 5 CUPS investiert und jeden Tag neue Companisten dazu kommen. Nach 48 Stunden steht das Funding schon bei über 136.000 EUR! Es ist schwer in Worte zu fassen, was dieses Vertrauen und der Zuspruch für uns bedeuten. "YOU ROCK!" beschreibt es am besten. Wir waren ohnehin schon zu 200 % motiviert, ihr habt das verdoppelt.
A propos verdoppeln. Das machen wir jetzt auch mit dem Fundinglimit. Wir erhöhen einmalig auf 300.000 EUR und geben damit noch weiteren Companisten die Chance, dabei zu sein und an 5 CUPS and some sugar teilzuhaben. Der Wert der Anteile derjenigen, die schon investiert haben, verändert sich dadurch nicht! Dafür haben wir gesorgt. Jeder bekommt seine Anteile zum gleichen Wert!
Bitte aktiviert eure Netzwerke, teilt unsere Nachrichten auf Facebook und Twitter und allen anderen Plattformen, teilt auch unser Video. Eure Unterstützung und Begeisterung helfen uns, zu wachsen und davon haben wir am Ende alle etwas!
YOU ROCK! ... hatten wir das schon gesagt?
Eure 5 CUPS and some Companisten
PS: Am 11.6. ist Open House bei 5 CUPS von 16 bis 20 Uhr. Schonmal vormerken. Wir erstellen ein Facebook-Event.