Dear Companists,
In our last update we gave you another update on both our analog and digital networks and how their growing. Today, we can happily announce the application launch for the diversicon Academy.
The first application phase for the diversicon academy starts today - on August 1st, 2017. Unemployed autists residing in Berlin/Brandenburg can now apply for the vocation preparatory training.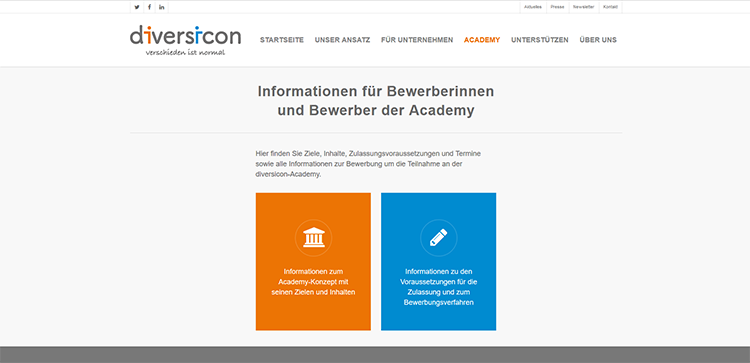 Many people in the autism spectrum are challenged by social interaction and communication due to their autistic characteristics. In many cases they find it hard to get a job and face long-term unemployment. With its new training concept diversicon precisely encourages the skillsets of autists to support their way towards employment and into the primary labor market. Therefore the trainings involve self, social and methodical competences in order to strengthen their occupational and professional acting capabilities.
The two month training of the diversicon academy takes place within the framework of a qualification and activation measure in partnership with the Federal Employment Agency (Bundesagentur für Arbeit). The modules highlight the particular strengths and weaknesses of the participants as they are constructed job-oriented and specifically for autists. To align the training with the needs of the autistic target group in a best possible way, diversity is already being lived within the Academy team: instructors with and without autism are working together here.
As of August 1st, 2017, unemployed and job-seeking autists residing in Berlin/Brandenburg can apply for the training of the diversicon-Academy. #Pass on the news!
Find more information on the training program of the diversicon-Academy right here: https://diversicon.de/academy/
Kind regards,
The diversicon team with
Dirk Müller-Remus und René Kuhlemann