Dear Companists,
It's great that we've reached the €100,000 investment threshold after just 1.5 days!
This means that the equity-based crowdinvesting contract is now binding and that we have the planning security in order to implement our activities from our first investment phase. In more concrete terms, we're going to create a personnel and system technology-oriented infrastructure for our Customer Relationship Management efforts, which will be scalable to meet the demands of large customers. This is composed of a combination of internal workers, external service providers, and solid CRM tools.
Now that the required infrastructure is covered, we're twice as motivated to put in our all in order to prestent HACCP24 to more and more customers.
There's some positive news that you'll be interested in:
Starting now, the HACCP24 app supports photo documentation. This is particularly important when it comes to receiving goods and is especially crucial for cases in which problems arise.
But that's still not everything. Starting now, our customers can also submit photos to the checking rule. With this new function, images may be displayed to indicate what cleaning products should be used when, for instance, instructions on how to clean an object are explained. This is especially helpful for users who may lack proficiency of the language that is spoken at their place of work.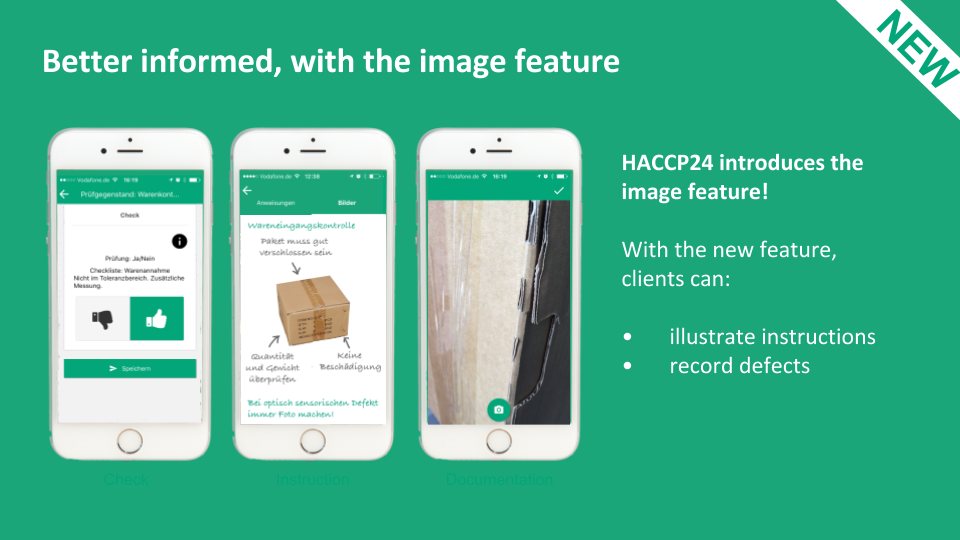 What's more, a large customer from the food retail sector has confirmed that they will be initiating a test phase with us. We're going to enter into this phase in August/September.
Thanks again for the trust you've shown us!
Kind Regards,
Your HACCP24 Team