Dear Companists,
last weekend we headed to Kiel to see gastronomist Susan Awolin. Ms. Awolin runs the "Pastis Restaurant and Grill" together with her husband, Sylvain Awolin. They were so impressed by our business idea that they decided to invest in our system and use it at their own restaurant.
We'd like to know what motivates them, how their cooks feel about the system and, of course, wouldn't mind having an excellent steak as well.
We make our way to their restaurant at 6:30 p.m. and are warmly welcomed. Susan Awolin, a business graduate, is already used to cameras and media attention, as the eatery won the "steakhouse" category on "Rach sucht: Deutschlands Lieblingsrestaurant" (Rach looks for Germany's Favorite Restaurant) in 2016.
During our conversation, she let us know that she's been a Companists for a while and is interested in the start-up scene. She instantly took to our project, as her 20 years of experience in the gastronomy industry means she's well aware of the problems that can occur when dealing with paper work. Her culinary team now includes between 20 and 30 employees, and given that they already play on their phones, she's been able to motivate them to improve their hygiene management with our product. Steven, one of the cooks, showed us later how easy it is to carry out the audits with the app.
She also found the contact with our team to be very pleasant. She gladly accepted the offer for a test account, and after sending us her hygiene documentation, her lists were digitized the very next day. The fact that "Pastis Restaurant and Grill" also runs their cash register system via tablet made using the HACCP24 app a piece of cake. Ms. Awolin also finds it very easy to use the system's backend and has added an additional refrigerator.
In the future, she plans on inspecting all cleaning tasks with the system. At the moment employees use the app on their devices. Additionally, they're also going to install the software onto their point of sale device.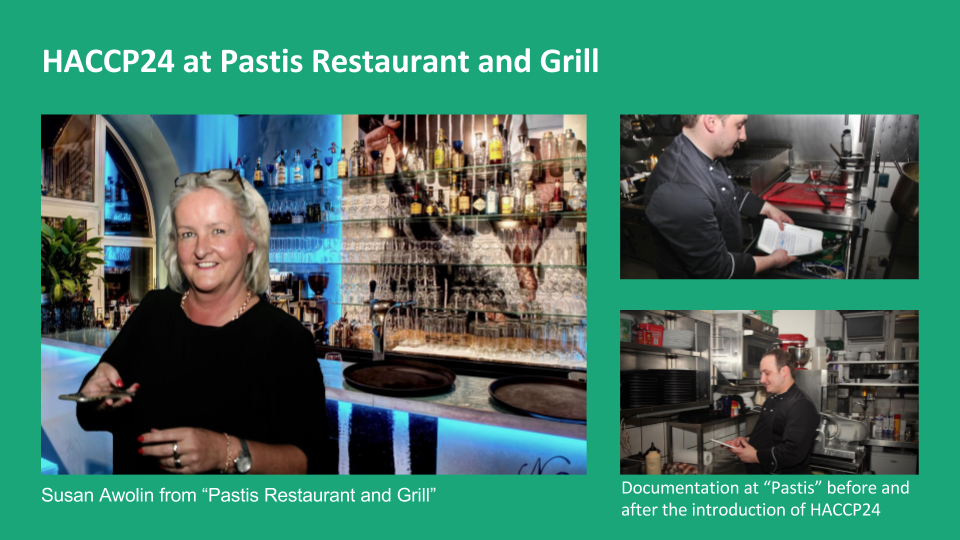 Ms. Awolin is completely convinced by her investment in HACCP24 and recommends using our product: "Clearly better than paper lists, and not expensive when the number of users is taken into account."
By the way, the food was also excellent. Going to Kiel for a visit to the "Pastis Restaurant and Grill" is definitely worth the trip.
Kind Regards,
Your HACCP24 team