Dear Companists,
It's once again time for an update, and we're very excited to directly tie in the success of the last campaign. Thanks to your support, we were able to implement many things last year. Our new app, Cringle 2.0, is ready for take-off, and we've made significant progress developing our API. All in all, there are now 16 of us, and we've been able to acquire additional banks as customers.
Our drive and optimism to become the number one provider for P2P payments in Europe remains strong. I'd like to briefly let you know what's been going on over the past few days.
The first hurdle and a welcomed media response
Only a few days have passed, and €80,000 has already been invested.
We didn't quite know what to expect from our second campaign or what the reaction of the press would be. Seeing such large sums invested over a short period of time fills us with both pride and gratefulness. The result once again shows that you continue to have faith in both us and our vision. To this end, we'd like to thank all of all of our new as well as existing investors here on Companisto.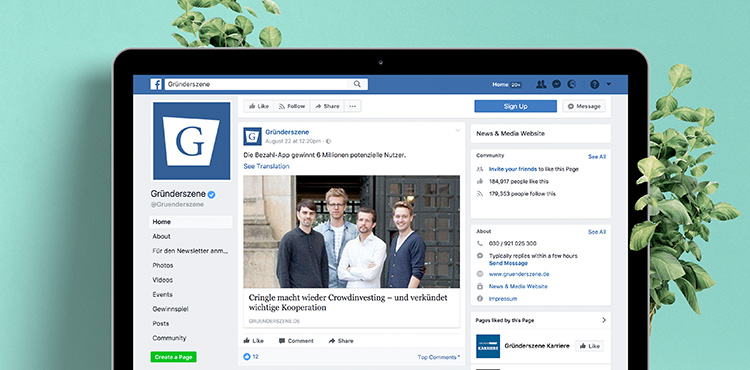 For start-ups, such attention is essential. And this is why we're so excited that we've been able to gain both national and international press attention through our equity-based crowdfunding campaign. At the time this update was written, notable publications, such as Wirtschaftswoche, Deutsche Startups, Crowdfundinsider, Versicherungswirtschaft-heute, Auxmoney and a few others have reported on us. What's more, we receive new questions on a daily basis. Feel free to get in touch with us if you write for a magazine and are interested in covering us or if you know anyone else who may be.
Deutsche Vermögensberatung (DVAG) partnership
With the launch of the campaign, we announced our partnership with the DVAG: The Deutsche Vermögungsberatung is now an official Cringle customer. What does this mean, exactly? Growth.
With the DVAG, we were able to acquire an ideal customer, as a total of more than six million customers will soon be added to our Cringle network. Via the Meine DVAG app, DVAG customers are able to easily carry out Cringle transactions. At the moment, the Meine DVAG app is currently in the open beta version. In the coming weeks, the DVAG's investment consultants will be presenting the app to their customers.
With the help of the DVAG as well as additional partners, we'll continue to grow! We'd be happy to have you join us on this journey!
Kind Regards,
Joschka