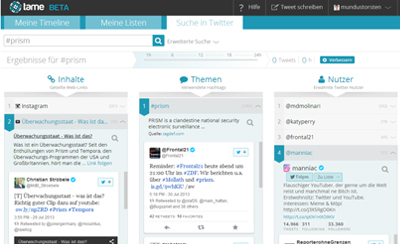 Liebe Companisten,
schon wieder ist ein Monat vergangen. Nach der erfolgreichen Umstellung auf ein neues Design und das Freemium-Bezahlmodell wächst unser Team und ebenso das Interesse an Tame:
1. Tame mit neuem Design und Bezahlmodell
Am 01. August wurde das neue Tame gelauncht und gleichzeitig unser angekündigtes Freemium-Bezahlmodell präsentiert. Hierzu konnten wir mit Hilfe des Nutzerfeedbacks aus der offenen Beta-Phase besonders die Benutzerführung, Funktionalität und das Design unserer Suchmaschine optimieren.
Genaue Details zu den neuen Funktionen findet Ihr im Tame-Blog.

2. Reaktionen auf Redesign und Freemium-Bezahlmodell

Viele Medien haben sehr positiv über unsere Weiterentwicklung berichtet. In Deutschland waren dies z.B. Gründerszene und Deutsche Startups. Dank eines dpa-Artikels wurde diese Woche zudem auf diversen deutschen Online-Medien wie Stern.de u.v.m. über uns berichtet.
International hervorzuheben sind besonders die Artikel bei TechCrunch und The Next Web. Dass zwei der wichtigsten amerikanischen Technologie-Blogs über uns berichtet haben, wird uns sehr helfen, wenn wir ab Oktober unsere Zelte im Silicon Valley aufschlagen.
Außerdem kürte uns das englisch-sprachige Startup-Magazin Venture Village zum "Startup of the week" und publizierte dazu ein großes Interview mit Mitgründer Torsten. Frederik wurde zudem vom Bundesministerium für Wirtschaft und Technologie (BMWi) interviewt und berichtet im Video von unseren guten Erfahrungen mit den Companisten.

3. Erste Kooperation bestätigt
Besonders bei aktuellen politischen Entwicklungen zeigt sich die Stärke von Tame, relevante Themen und Inhalte schnell recherchieren und analysieren zu können. Auf der Homepage von Cicero, einer deutschen Zeitschrift über politische Kultur, wird ab sofort mit Hilfe von Tame der Online-Wahlkampf betrachtet. Im Twitter-Duell stehen sich Angela Merkel und Herausforderer Peer Steinbrück gegenüber. Welche Inhalte, Themen und Nutzer mit den jeweiligen Wahlkämpfern verbunden werden, zeigt das eingebundene Tame-Widget.
Bis zur Wahl im September wird unser Social Media-Redakteur Tobias außerdem im festen Rhythmus Analysen zum Onlinewahlkampf Twitter für ZDF Hyperland und Cicero veröffentlichen.

4. Weiterer Zuwachs
Ende Juni konnten wir mit Tazaldoo, der Firma hinter Tame, einjähriges Jubiläum feiern und dabei auf zahlreiche Höhepunkte zurückblicken. Wie oben angekündigt, wachsen wir weiter und freuen uns sehr, mit Oliver und Charles zwei weitere Entwickler im Team zu haben. Oliver hat eine Ausbildung zum Fachinformatiker und ein Studium der Medieninformatik in Berlin absolviert. Charles ist in Paris geboren und hat in Karlsruhe Informatik studiert. Beide verstärken uns im Bereich Backend- und Web-Entwicklung.
Anfang August ist außerdem Betriebswirt Mikayel zum Team gestoßen, um unser Finanzmanagement zu optimieren.
So viel für den Moment. Bis zum nächsten Update und
beste Grüße vom Team!