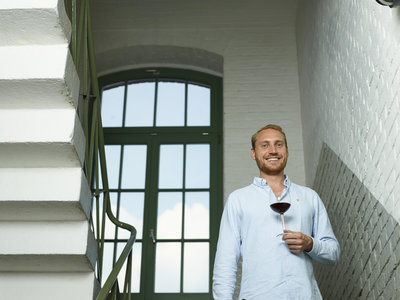 In der Serie "Get to know your startup" stellt euch Companisto die Gründer in einem Interview vor. Wer sind sie, wie kamen sie auf ihre Idee, womit beschäftigen sie sich sonst? Heute steht uns der Gründer und Head of Marketing von Sommelier Privé, Marc Clemens, Rede und Antwort.
Wann und unter welchen Umständen kam euch die Idee zu Sommelier Privé?
Marc: Arno, unser Sommelier, und ich haben uns bei einem Glas Wein kennengelernt und dabei viel über Wein und seine Vermarktung im Internet unterhalten. Dabei war ich beeindruckt, wie bildlich Arno mir den Wein, den wir vor uns stehen hatten, beschreiben und erklären konnte. So entstand irgendwann die Frage: Warum gibt es eigentlich im Internet keinen Shop, der diese Beratungskomponente und diese Leidenschaft für Wein transportiert?
Woher kennt ihr Gründer euch, wie habt ihr euch gefunden?
Marc: Nachdem die initiale Idee entstanden war, brauchten wir ein passendes Team, das die Begeisterung für guten Wein und eine hochwertige Marke teilt. Mit Grazia, Paul und Philipp hatten wir schnell drei Mitstreiter gefunden, die für die Idee genau so brannten wie wir selbst. Zusammen haben wir dann das Konzept entwickelt und die Marke Sommelier Privé aufgebaut.
Was habt ihr vor der Gründung von Sommelier Privé gemacht?
Marc: Ich habe vor Sommelier Privé mein BLW-Studium an der HEC Paris beendet und Startup-Erfahrung bei einem Projekt von Rocket Internet gesammelt. Arno war als Sommelier in der Sterne-Gastronomie tätig und hat dann seinen eigenen Wasser- und Weinraritäten-Onlineshop aufgebaut. Grazia hat als Buchhalterin und Geschäftsführer-Assistenz in einem italienischen Stahlunternehmen gearbeitet. Paul war vorher als Freelancer für visuelle Strategien tätig und hat nebenbei sein eigenes Label für Apple-Laptoptaschen aufgebaut. Philipp war Research Consultant in der Marktforschung und ist dann als Blogger und Freelance-Texter seiner Leidenschaft zum Schreiben gefolgt. Viele unterschiedliche Talente, versammelt in einem Team!
Was begeistert euch am meisten am Entrepreneur-Sein?
Marc: Ganz klar: Die Möglichkeit, eigene Ideen unmittelbar umzusetzen. Die Freiheit, eigene Entscheidungen zu treffen. Das Arbeiten in einem jungen, talentierten, ehrgeizigen Team. Das Gefühl, morgens nicht "ins Büro" zu gehen, sondern zusammen eine Vision zu verfolgen. Und, speziell in unserem Fall: Immer guten Wein da zu haben, wenn es abends mal später wird im Büro.
Was versprecht ihr euch von der Crowdinvesting-Kampagne?
Marc: Wir wollen mit den Companisten Reichweite generieren und Sommelier Privé als Marke und Produkt eine noch größere Bekanntheit verschaffen. Die Finanzierungsgelder werden wir zum allergrößten Teil in Marketing stecken, um schnell Geschwindigkeit aufzunehmen und unser Wachstum zu beschleunigen.
Wie kann man euch als Companist konkret unterstützen?
Marc: Jeder Like, jede Erwähnung in einem Gespräch und jeder Euro zählt. Wir freuen uns natürlich über jeden Companisten, den wir so sehr von uns begeistern können, dass er mit einer Investition Teil von unserer Vision wird. Aber auch das Weitererzählen an Bekannte, Kontakte zu Journalisten, Bloggern und sonstigen Multiplikatoren und der simple Like auf Facebook sind sehr viel wert! Und wenn der eine oder andere Companist als Kunde selbst in den Genuss unserer Weine kommen möchte, dann freuen wir uns natürlich besonders!
Mit wem würdet ihr gerne mal ein Glas Wein trinken?
Marc: Es wäre sicherlich spannend, mal mit einer Weinkritiker-Legende wie Robert Parker oder einem Weltklasse-Winzer wie Piero Antinori ein Glas Wein zu trinken und den beiden beim Fachsimpeln zuzuhören. Und aus unternehmerischer Perspektive wäre ein Gespräch mit Steve Jobs natürlich unheimlich reizvoll gewesen. Die Verbindung von ansprechendem Design und Usability so hinzubekommen wie Apple, ist schon grandios.
Was macht ihr in eurer (sicherlich kargen) Freizeit?
Marc: Um den Kopf frei zu kriegen: Sport, am liebsten Kite-Surfing und Yoga. Abseits von Wein habe ich auch sonst viel Spaß an Gourmet-Themen, gehe also gerne Essen, probiere neue Kaffee- und Teesorten aus usw. Außerdem kann ich mich sehr für neue Technik-Gadgets begeistern und organisiere gerne kleinere Events mit Freunden und Bekannten aus der Wein- und Startup-Szene. All das kommt leider häufig zu kurz, aber das ist der Preis, wenn man seinen "Job" sehr mag.
Gibt es einen Unternehmer/Unternehmen, an dem ihr euch orientert, der/ das euch als Vorbild dient?
Marc: Für mich persönlich ist es mein Opa, der auch Unternehmer war. Er produzierte Räumwerkzeuge und hat mir manchmal seine Maschinen gezeigt – das hat mich als kleiner Junge natürlich beeindruckt! Mit Sommelier Privé orientieren wir uns, was den ästhetischen Anspruch angeht, ein wenig an Mr. Porter, die einfach einen überragenden Auftritt haben. Als Innovator im Weinmarkt haben wir sonst ansonsten keine ganz unmittelbaren Vorbilder.
Leidliche Frage: Wird man als Unternehmer geboren oder dazu gemacht, was denkt ihr?
Marc: Haha, ja, die alte nature-nurture-Frage. Vor dem Hintergrund meiner eigenen Erfahrung würde ich sagen: Man wird dazu geboren. Ich habe tatsächlich schon als kleiner Junge davon geträumt, einmal Unternehmer zu sein. Doch ich sehe es auch in unserem Team: Wir haben alle ganz unterschiedliche Ausbildungshintergründe, aber lieben es alle, unternehmerisch zu denken und handeln. Das spricht eher für eine Veranlagung. Aber klar: die langweilige sowohl-als-auch-Antwort stimmt natürlich immer.
Vielen Dank für das Interview, Marc!