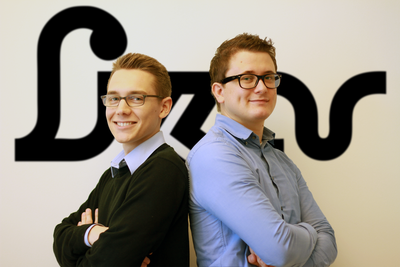 In der Serie "Get to know your startup" stellt euch Companisto die Gründer in einem Interview vor. Wer sind sie, wie kamen sie auf ihre Idee, womit beschäftigen sie sich sonst? Heute steht uns der Gründer von Lizzar, Kevin Gehrmann, Rede und Antwort.
Hallo, Kevin! Wann und unter welchen Umständen kam euch die Idee zu Lizzar?

Musik war für uns schon immer eine große Leidenschaft. Jedoch sind mein Mitgründer Philipp und ich sehr enttäuscht von der geringen Musikvielfalt, die den Hörern auf den meisten Radiossendern geboten wird. Des Weiteren haben wir beide den Frust miterlebt, den Künstler haben, wenn sie ihre Musik online präsentieren wollen, jedoch in der Masse untergehen.
Während meines Masterstudiums in Rotterdam stellte ich mir die Frage, was es wirklich benötigt, um die Musikindustrie zu demokratisieren und dem Hörer endlich wieder eine Vielfalt an verschiedenen Musikarten aus aller Welt zu bieten - ohne dabei auf Qualität verzichten zu müssen. Dabei war es auch wichtig, den Künstlern eine einzigartige Chance zu geben, ein weltweites Publikum anzusprechen. Die Lösung: Lizzar, eine Plattform, die zum einen die Entdeckung weltweiter Independent Musik einfach macht und zum anderen Crowdvoting-Mechanismen anwendet, die die Qualität der Musik sichert.
Woher kennt ihr Gründer euch, wie habt ihr euch gefunden?
Philipp und ich haben uns bereits in der studentischen Unternehmensberatung der Europa-Universität Viadrina kennengelernt. Anfang 2013 trafen wir uns dann in Berlin wieder und unterhielten uns über die Musikindustrie und den aktuellen Stand von Lizzar. Da auch Philipp für Musik brennt und als Komponist auch einige Erfahrung aus Künstlersicht gesammelt hatte, entschieden wir uns, die anstehenden Herausforderungen gemeinsam zu meistern.
Was habt ihr gemacht, bevor ihr euer Startup Lizzar gegründet habt?
Philipp hat lange Zeit beim Startup-Unternehmen "Wirkaufens" im Marketing-Controlling gearbeitet und dort seine Fähigkeiten in den Bereichen Customer Development, Conversion-Optimierung und Kampagnensteuerung weiterentwickelt. Seine Erfahrungen in der Unternehmensberatung, sowie im Customer-Relationship-Management bei Lieferando bieten zusätzlichen Mehrwert für die Entwicklung und das Wachstum von Lizzar.
Ich selbst habe eine Zeit lang für Conergy und die Daimler AG gearbeitet; die Arbeit in den Großkonzernen hat mich jedoch nie hundertprozentig befriedigt. Mir fehlten die großen Herausforderungen, eine leidenschaftliche Vision und eine Arbeit, die jeden Tag Neues mit sich bringt. Während meines Masterstudiums an der Rotterdam School of Management wagte ich dann den Schritt mit Lizzar und so entwickelte sich dann alles.
Was begeistert euch am meisten am Entrepreneur-Sein?
Jeden Tag wieder alles zu geben. Sich extrem schnell zu entwickeln und täglich an neuen Aufgaben zu wachsen. Es ist einfach einmalig, ein Unternehmen Stück für Stück wachsen zu sehen und die Flexibilität zu haben, Geschäftsideen und Modelle jederzeit auf neue Marktanforderungen anpassen zu können.
Was versprecht ihr euch von der Crowdinvesting-Kampagne?
Da wir selbst einen Service für die Crowd bieten, ist Companisto die perfekte Anlaufstelle für uns. Neben dem finanziellen Aspekt wollen wir mit Hilfe der Companisten Lizzar zu einem Begriff machen und die Reichweite der Plattform steigern.
Wie kann man euch als Companist konkret unterstützen?
Zum einen können uns die Companisten durch ihr monetäres Investment einen riesigen Schritt weiterbringen. Zum anderen können alle Companisten in ihren bestehenden Netzwerken über Lizzar berichten und die Hörer von Dauerschleifen-Musik befreien.
Ganz konkret können die Companisten einfach unsere Thunderclap-Kampagne unterstützen. Thunderclap ist eine Crowd-Speaking-Plattform. Wenn dort eine kritsche Anzahl von Unterstützern teilnimmt, wird zu einem bestimmten Zeitpunkt in den sozialen Netzwerken wie beispielsweise Facebook oder Twitter ein Thunderclap ausgelöst, eine Post-Welle. Nur ein kleiner Klick für die Companisten, aber eine große Welle für Lizzar (hier geht es zum Thunderclap für Lizzar)!
Nicht zuletzt wollen wir Feedback und Anreize von den Companisten erhalten und unsere Produktentwicklung entsprechend anpassen.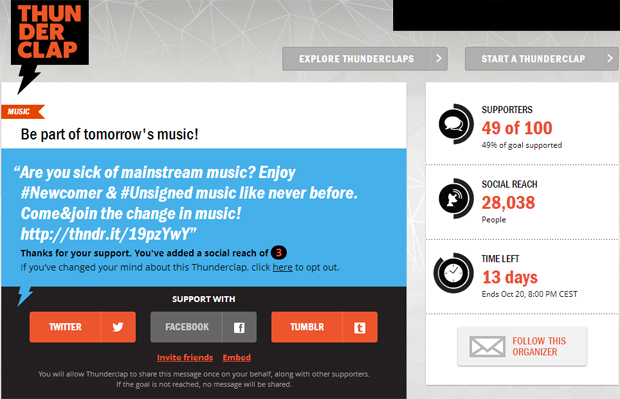 Mit wem würdet ihr gerne mal eine Tasse Kaffee trinken?
Eine Tasse Kaffee mit Ryan Leslie zu trinken, wäre sehr reizvoll. Er ist ein erfolgreicher amerikanischer Independent Künstler, der sich nicht von einem Major Deal hat knebeln lassen. Als ihm die Vorgaben für sein Album zu strikt wurden, hat er sich entschlossen, das Musiklabel zu verlassen. Mit "Next Selection" gründete er dann sein eigenes, erfolgreiches Independent Label, welches ihm die zuvor fehlenden musikalischen Freiheiten gab. Seine Musik ist repräsentativ für die Qualität und Vielfalt, die im Independent-Markt herrscht.
Was macht ihr in eurer (sicherlich kargen) Freizeit?
Grundsätzlich nutzen wir die Zeit, befassen uns viel mit anderen Startups und versuchen, aus Erfahrungen und Fehlern Anderer zu lernen.
Philipp sieht man nach Feierabend gerne mal in den hiesigen Jazz-Bars der Stadt oder in der Junction Bar in Berlin Kreuzberg. Am Wochenende genießt er es, für sich und seine Familie den Kochlöffel zu schwenken und bei einem guten Film Kraft und Inspiration für die nächste Woche zu schöpfen. Freitags nach der Arbeit (gegen 22 Uhr?) genieße ich gerne mal ein kühles Bier zu einem gemütlichen House-Set in der LNG Bar in Berlin Mitte.
Gibt es einen Unternehmer/Unternehmen, an dem ihr euch orientert, der/ das euch als Vorbild dient?
Sir Richard Branson ist für uns beide eine große Inspirationsquelle. Er lebt den Begriff "Think Big". Als Entrepreneur hat er sich stets die höchsten Ziele gesetzt und sich entgegen aller Erwartungen durchgesetzt. Mit Virgin Records, Virgin Cola oder auch Virgin Galactic hat er viele Industrien auf den Kopf gestellt. Neben seinem finanziellen Erfolg macht er auch als Mensch einen sehr positiven Eindruck und strahlt enorme Lebensfreude aus. Diese Mischung aus geschäftlicher und privater Erfüllung ist der Traum eines jeden Unternehmers.
Leidliche Frage: Wird man als Unternehmer geboren oder dazu gemacht, was denkt ihr?
Wir sind der Meinung, dass der Trieb nach Selbstverwirklichung von Geburt an gegeben ist, in welcher Form man diesen umsetzt, ist bei jedem Menschen unterschiedlich. Wir haben mit Musik und Unternehmertum den idealen Mix für uns gefunden.
Vielen Dank für das Interview, Kevin!