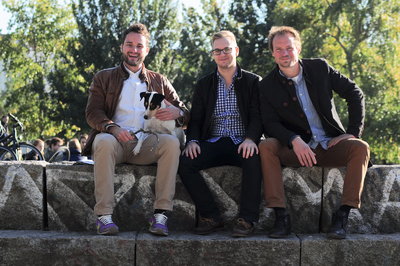 In der Serie "Get to know your startup" stellt euch Companisto die Gründer in einem Interview vor. Wer sind sie, wie kamen sie auf ihre Idee, womit beschäftigen sie sich sonst? Heute stehen uns die Gründer von Schnuff & Co, Chris Schwalm, Denis Martin und Yannis Niebelschütz, Rede und Antwort.
Chris, Denis und Yannis, wann und unter welchen Umständen kam euch die Idee zu Schnuff & Co?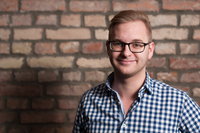 Chris: Wir wollten damals gemeinsam mit Freunden in den Urlaub fahren und hatten schon alles geplant, doch dann konnte ein befreundetes Paar im letzten Moment nicht mitfahren, weil es keine geeignete und bezahlbare Unterkunft für ihren Hund finden konnte. Wir mussten den gesamten Urlaub absagen und in diesem Moment kam uns die Idee, Schnuff & Co ins Leben zu rufen.
Woher kennt ihr Gründer euch, wie habt ihr euch gefunden?
Chris: Yannis und ich kennen uns schon länger, seit 2011. Bei Founderslink haben wir uns kennengelernt und zusammen das Vergleichsportal Netzsieger aufgebaut. Nachdem die Idee von Schnuff & Co konkret wurde, ist Denis zu uns gestoßen.
Was habt ihr gemacht, bevor ihr euer Startup Schnuff & Co gegründet habt?
Yannis: Schon als Kind habe ich erste Erfahrungen beim "Picobello"-Magazin gesammelt. Dann folgte 2006 die Gründung von Flaschenlabel. Seit diesem Jahr bin ich Unternehmer im Onlinebereich. Zusammen mit meinem Bruder habe ich dann myparfum mit 60 Mitarbeitern gegründet. Vor kurzem wurde dann auch der erste Store in Berlin eröffnet und damit die Expansion im Offline-Geschäft begonnen. Über die Plattform FoundersLink trete ich als Venture Partner auf und habe dann mit Chris zusammen das Portal Netzsieger aufgebaut. Des Weiteren habe ich den deutschen Marktführer im Bereich Crowd Testing, Testhub, gegründet, sowie die Beteiligungsgesellschaft elite-startups. Dort geht es um den Aufbau und die Finanzierung von Unternehmen.
Was begeistert euch am meisten am Entrepreneur-Sein?
Denis: Unternehmer sein bedeutet Freiheit; sich frei entscheiden zu können und ein gemeinsames Projekt zu verfolgen, ist das Größte für uns. Die Dynamik, die dahinter steht und fortwährend Veränderungen mit sich bringt, ist unbeschreiblich. Wir Drei teilen die Leidenschaft zur Veränderung und den Willen, Schnuff & Co bis an die Spitze zu bringen.
Was versprecht ihr euch von der Crowdinvesting-Kampagne?
Denis: Unser Auftritt auf companisto.com soll unsere Marke Schnuff & Co bekannt machen und natürlich auch Kunden bringen. Das Geld soll unser Wachstum beschleunigen und uns die nötigen Mittel zur Verfügung stellen, die wir brauchen, um Schnuff & Co zur größten Tiersitterplattform Europas zu entwickeln.
Wie kann man euch als Companist konkret unterstützen?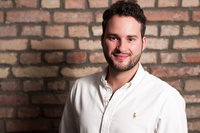 Denis: Neben der finanziellen Unterstützung freuen wir uns natürlich auch über jegliche weitere Form von Support. Schnuff & Co ist eine Herzensangelegenheit und soll in aller Munde sein. Über unsere Website, unseren Blog und die sozialen Medien tragen wir unsere Marke in die Welt. Wir freuen uns, wenn die Companisten uns dabei helfen und fleißig kommentieren und liken. Darüber hinaus können sie Tierbesitzer für unsere gemeinsame Sache begeistern. Egal ob im Park, auf dem Hundeplatz oder auf der Straße: Über unsere Kampagne und die Idee sprechen ist sehr viel wert und bringt uns der Vision, die größte Tiersitterplattform Europas zu werden, ein Stück näher. Kontakte zu Journalisten, Bloggern und anderen Multiplikatoren helfen uns ebenso weiter. Und nicht zuletzt, wenn sich jeder Companist selbst ein Profil auf Schnuff & Co anlegt und damit Teil der Community wird.
Was macht ihr in eurer (sicherlich kargen) Freizeit?
Yannis: Ich treibe sehr gerne Sport, doch mein Job ist für mich auch und vor allem Freizeit. Unternehmen aufzubauen, Netzwerke zu pflegen und zu knüpfen sind für mich Teil des Business und ich bin gern mittendrin und bringe die Dinge ins Rollen.
Mit wem würdet ihr gerne mal eine Tasse Tee trinken?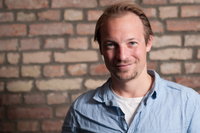 Yannis: Elon Musk. Er ist visionär. Er plant nicht für jetzt, sondern für die nächsten Jahrzehnte und wenn einer von "disruptiven Technologien" sprechen kann, dann Elon Musk. Nicht nur hat er PayPal mit aufgebaut, er hat als Privatperson mit Tesla Motors im Handumdrehen das Elektroauto-Zeitalter eingeläutet. Die Börse bewertet Tesla Motors momentan höher als FIAT. Außerdem begeistert er im notorisch klammen Kalifornien gerade mit seinem Hyperloop genannten Entwurf eines ultraschnellen Transportsystems, das L.A. und San Francisco verbinden soll und dennoch weitaus günstiger umzusetzen wäre als die konventionell geplante Strecke. Wahrscheinlich würde er beim Tee-Gespräch gleich auch noch Tee revolutionieren.
Gibt es einen Unternehmer/Unternehmen, an dem ihr euch orientiert, der/ das euch als Vorbild dient?
Yannis: Richard Branson fasziniert mich. Ein Self-made-Milliardär wie Elon Musk, der schon seit den 1970er Jahren nahezu jedes althergebrachte Geschäftsfeld umzukrempeln versucht und nebenbei auch sportliche Höchstleistungen vollbringt und sich im Umweltschutz engagiert. Vielleicht klappt nicht immer alles, was er anpackt, aber er setzt sich extrem ambitionierte Ziele und setzt sie meistens um. Er lernt aus seinen Fehlern und gibt auch guten Ideen anderer Leute immer eine Chance. Die Krönung mag bis jetzt sein Unternehmen VIRGIN Galactic sein, das eines Tages die bemannte, private Raumfahrt ermöglichen soll. "Ths sky is the limit" gilt für Branson ganz buchstäblich.
Leidliche Frage: Wird man als Unternehmer geboren oder dazu gemacht, was denkt ihr?
Yannis: Erste frühere unternehmerische Erfahrungen spielen sicherlich eine wichtige Rolle. Dennoch glaube ich, dass sehr viele Menschen den Willen haben, ein Projekt aufzubauen und voranzubringen. Es fehlt letztlich allein der Mut, den endgültigen Schritt zu wagen.
Vielen Dank für das Interview, Team Schnuff & Co!