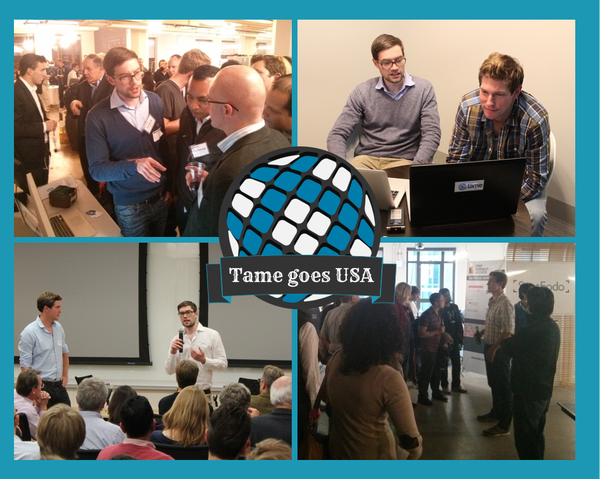 Liebe Companisten,
wie ihr wisst, befindet sich ein Teil des Teams noch im Silicon Valley, um hier im Rahmen des German Silicon Valley Accelerators u.a. den Markteintritt in den USA vorzubereiten, während der andere Teil des Teams natürlich in Berlin die Stellung hält.
Für das neue Projekt ARTE future, das "von renommierten Partnern wie The Guardian, der taz, der französischen Tageszeitung Libération, der Zeitschrift Futuribles, dem Debatten-Magazin The European, dem Pariser webTV Universcience.tv, dem jungen Think Tank tt30, dem Club of Rome und vielen anderen" begleitet wird, halten wir unseren Aufenthalt hier im Selfie-Doku-Format "Inside Silicon Valley" fest. Insgesamt zehn Folgen wird es geben.
Schaut euch doch einfach mal an, was wir in San Francisco, Palo Alto und Umgebung so alles erleben. Künftig werden wir euch hier wöchentlich die neueste Folge präsentieren. Die erste Folge könnt ihr auch in unserem letzten Update verfolgen. Nun präsentieren wir euch Folge 2.

Folge 2: Führung durch die Twitter Büros
In der 2. Folge steht kurz vor Twitters Börsengang das erste Treffen mit dem Unternehmen, dessen Kennzeichen ein kleiner blauer Vogel ist, auf dem Programm, Tame-Praktikant Julius heißt Frederik im Co-Working Space "Runway" willkommen und es gibt ein Wiedersehen mit Mitgründer Torsten, der schon nach San Francisco vorausgeeilt war.
Falls das Video nicht geladen wird oder ihr auch alle vorangegangenen Folgen sehen möchtet, so klickt hier: http://future.arte.tv/de/thema/silicon-valley
Selbstverständlich könnt ihr unseren Valley-Aufenthalt auch bei Twitter unter dem Hashtag "#futurevalley" begleiten oder euch in unserem Blog auf dem Laufenden halten.
Der Runway
Hier könnt ihr übrigens sehen, wo sich unser Co-Working Space Runway befindet.
Viele Grüße aus dem Valley
Team Tame