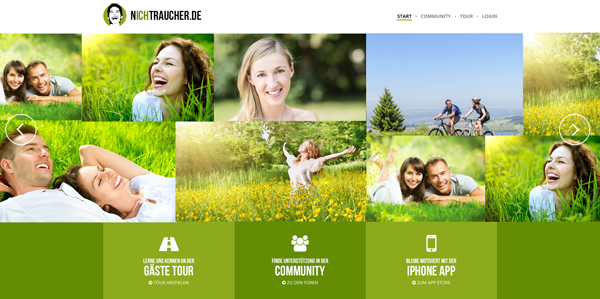 Dear Companists,
The first week on Companisto was a huge success for nichtraucher.de in many respects. There has also been a positive development on our platform, but read for yourself!
40 % Increase in Traffic
Within only two months, we have been able to increase daily traffic by more than 40 % without using paid advertising at all! Thus, we can already attract many new users now. Starting with the roll-out of the new nichtraucher.de, we will also gain momentum in marketing and thus reach our growth targets.
Additional Powerful and Thematic Domains
Did you know that Covus Health GmbH has other thematic domains in its portfolio in addition to our extremely powerful domain www.nichtraucher.de? These include the domains of www.raucher.de and www.nichtraucherkurs.de, two very powerful domains that we will use to further optimize the visibility of nichtraucher.de: At www.nichtraucherkurs.de, we will create a landing page for the non-smoker seminars of our cooperators. www.raucher.de will raise awareness of the dangers of smoking in the future and thus generate qualified traffic for nichtraucher.de.
We are convinced that these domains are an important factor in rapidly improving our situation as the market leader and in permanently establishing nichtraucher.de as Germany's largest non-smoker community. We are looking forward to the further course of the campaign and are curious where the Companists will lead us.
Best regards from Berlin,
Maria, Christian, and Eric of nichtraucher.de