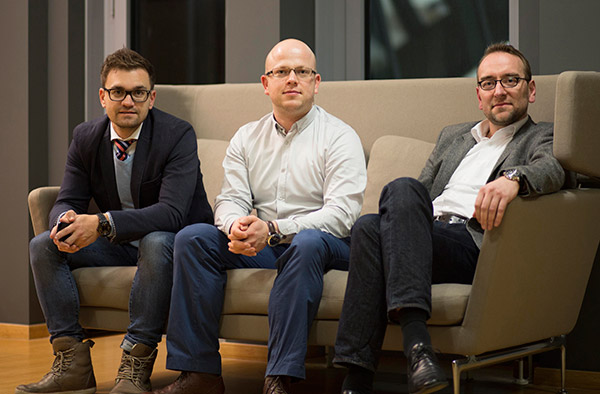 Dear Companists,
We are really looking forward to the crowdinvesting with you, but first of all, we would like to introduce ourselves. Readfy consists of (from left to right): Ryan David Mullins, Felix Bauchspieß, and Frank Großklaus. Each of us is a book enthusiast.
What We Intend to Do
Germany is the second largest book market in the world; it is also the country where Johannes Gutenberg invented printing. It is safe to say that the Germans have a certain affinity for books. Yet, they still have some reservations about e-books, which is what we are trying to change now.
E-books are practical, but they still cost roughly as much as the printed version (at least in paperback) and are bound to the vendor of the e-book reader.
If users switch to another provider, they often cannot read the e-book any longer.
readfy is the first e-book service worldwide that offers e-books for free – especially for smartphones and tablets – on Android from now on and on iOS starting this summer. We are transferring the freemium offers already available in the music industry to the e-book market.
Why the Concept of readfy Is so Attractive to Publishers
Everyone involved benefits from our concept, even the publishers. The e-books are financed by means of advertisements in the books. Publishers participate directly in the revenues of readfy. If readers do not want advertisements, they may pay € 4.99 per month for less or € 9.99 per month for no advertisements. The interesting thing is that users of the readfy app remain anonymous, while advertisers find out more and more about them over time, for their reading habits reveal their additional preferences and interests. In this way, publishers may, for instance, inform readers of reading tours of their authors. Until now, publishers knew their sales figures, but they did not know to whom they were selling books and why.
Distribution of Smartphones and Tablets
We decided to make our service available via a free app, which will initially be available for Android and iOS. Smartphones and tablets are more widely distributed than ever before. In 2013 alone, according to a projection by statista (the definitive figures are not yet available), 26.4 million smartphones are estimated to have been sold in Germany and presumably more than 1 billion worldwide. These mobile devices are changing the way in which we use the media and in which humans communicate with each other.
Social Reading
People inevitably used to read books on their own; perhaps they lent the books to somebody else and discussed them afterwards. At readfy, we emphasize the social dimension of reading. Our app makes "social reading" possible, i.e., our users may mark passages in the e-books, share them, and discuss them with others. Thus, reading becomes a communal experience.
Win-Win-Win for Readers, Publishers, and Companists
Since almost everybody likes to read, readfy is particularly suitable for a crowdinvesting, for it is useful to everyone. We would appreciate it if as many Companists as possible also became readfy users or if you recommended our service to avid readers, and we are really looking forward to your feedback. After Gutenberg, the next revolution on the book market could come from Germany as well. Help us make reading free and social.
Best,
The Team of readfy