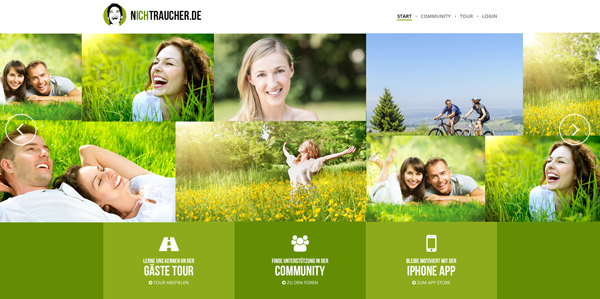 Dear Companists,
The campaign on Companisto is a huge success for the nichtraucher.de team, but read for yourself!
Valuable Feedback – Many Thanks to the Companists!
The campaign on Companisto has been a great success for nichtraucher.de not only because of the successful financing. The feedback and the highly qualified suggestions by the Companists have fascinated us and are influencing the work on nichtraucher.de every day. Thus, many suggestions have already been implemented in product development, and more will follow. Again, thank you all for this feedback and the interesting conversations we were able to have in the last few weeks.
Increase in Users on nichtraucher.de
There is also good news in regard to the platform: By means of the steadily increasing traffic, the number of users also increased significantly. With more than 75,000 members, nichtraucher.de has extended its lead over its competitors even further and keeps establishing itself as Germany's largest non-smoker community.
Success Powered by Covus
Covus also has a success to report: In September 2013, it founded another company, OnlineVersicherung.de, together with the Companists. Today, OnlineVersicherung.de is established on the market. Ever since a major insurance corporation recently invested a high six-digit amount in OnlineVersicherung.de, the company has become a huge success both for the Companists and for Covus.
Covus intends to repeat this success by means of nichtraucher.de. Use your opportunity to participate in nichtraucher.de, the next project of the Covus group, now.
Best regards from Berlin,
Maria, Christian, and Eric of nichtraucher.de