Dear Companists,
It is only the third week after our beta launch, yet there is again interesting news that we definitely want to share with you.
Beta Accounts for Companists
We expressly want to invite all Companists to become privileged readfy beta testers. Normally, new registrations are put on a waiting list. Companists, however, are activated without a waiting list. This works as follows:
Register on www.readfy.com
Download the Android app and install it on your device: www.readfy.com/download
Send a short email to beta@readfy.com and tell us the email address you used to register
We will inform you as soon as we have activated your account; you may then log in to the app using your email address and password
Start reading and have fun!
We are looking forward to receiving your feedback and have already considered numerous ideas by test users in our planning. Just send your feedback to beta@readfy.com.
A Few Figures
More than 3,700 test users have registered; we have recently activated another 750
Since our start on 7 February, our users have read more than 120,000 pages
As you can see in the image, almost 15,000 advertisements were displayed during this time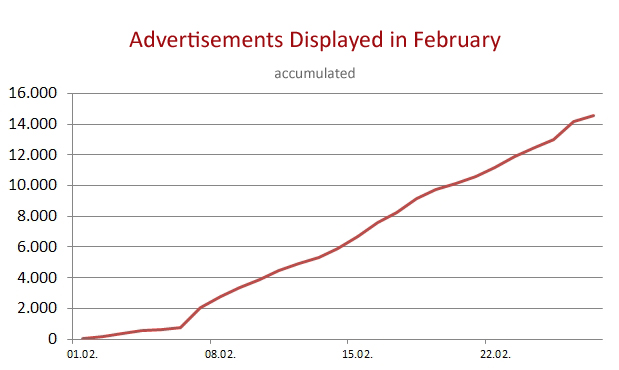 Reactions from the Industry
This week, we also had very promising talks with publishers and other potential cooperators. Moreover, we are preparing our participation in the CeBIT (10-14 March in Hanover, Germany) and on the Leipzig Book Fair in two weeks. BITKOM, the association of the IT, telecommunication, and new media industry, invited us to present readfy during a CeBIT event. For the Leipzig Book Fair, we have been able to make many appointments with publishers and other content providers.
There is great interest in readfy in the book industry, and we have received countless other invitations to conferences and workshops during which the readfy team is supposed to give presentations or participate in panel discussions.
Stay tuned – we will do the same ;)
Best,
The readfy team