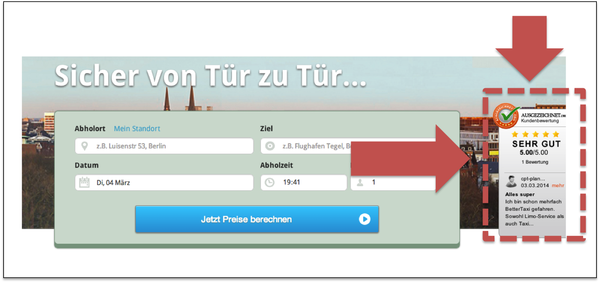 Dear BetterTaxi Companists,
BetterTaxi has now introduced a rating system. We have opted for a rating system by "Ausgezeichnet." This system has already been integrated into our website as a widget in order to increase the conversion rate. The conversion rate is the number of bookings compared to the number of website visitors.
Rating Also Improves Keyword Ranking
Moreover, we hope that the rating stars will also be displayed in the Google search and that we will improve our Google keyword ranking. Hopefully, we will soon be in the top 3 for all important keywords, for instance "Taxi Berlin," "Taxi Munich," and "Airport Shuttle." You can help us.
How the Companists Can Help Us
We are asking you to take a few seconds of your time and rate us. All you have to do is click on this link or on the widget on our website. Then, you can post a brief rating, which would be great.
BetterTaxi Online Payment
Customers of BetterTaxi may now also pay online. This pilot project is currently limited to the city of Munich and to the web, but it includes as many as 3,000 vehicles, a number that roughly corresponds to the total number of vehicles available via myTaxi in Germany. Try it yourself: Just book a taxi using online payment on www.bettertaxi.de and give us some feedback.
Best regards,
The BetterTaxi team