Dear Companists,

After the great start of our crowdfunding campaign last week, a lot of things have happened. The huge global perfume market is in motion – and we are right in the middle of it!
The Specialized Press Is Curiously Looking at Our Multi-channel Strategy
The specialized press has looked closely at our multi-channel strategy and recognized its great potential. Neuhandel.de noted that by means of the MyParfum scent bars, we manage to sustainably link online and offline business. Exciting Commerce identified MyParfum as a trailblazer on this market in addition to Douglas, Ludwig Beck, and Glossybox. The business magazine Unitednetworker is thrilled by our scent bar as well. First TV stations have already signaled that they would be interested in reporting on our partner branches. A positive side effect of this media coverage is that more and more perfume store owners are contacting us because they are very interested in cooperating with us (even though we are receiving a large number of less qualified cooperation inquiries at times).
Chinese Investment Company Wants to Take MyParfum to Asia
Our partners are also convinced that MyParfum is able to change the perfume market by means of its concept of the individual perfume. Shortly after the start of our crowdfunding campaign, we got mail from China. One of the leading Chinese venture capital companies situated in Beijing and San Francisco wants to take us to China. After intense negotiations in the last few days, a personal meeting in the American office of the company in Silicon Valley is planned. The dimensions of this unexpected potential deal are huge. There are 82 million people in Germany and 314 million people in the U.S., but the 1.3 billion people in China are a multiple of these populations. Accordingly, the potential of this booming mega-market and the intended investment are enormous. Douglas has also signaled its interest in the Asian market, but the company is struggling with its international competitor Sephora and local players in spite of 500 million euros of expansion capital.
Successful Business Also during the MyParfum Funding Event
The MyParfum funding gala last week was a huge success. Apart from several Companists, fashion designer Matthias Jahn, top model Katharina Stahn, Flaconi CEO Björn Kolbmüller, and Apareoo (Beautylane) CEO Stefan Buess were among the 200 invited guests. The press was also present. We have already agreed on many partnerships for the coming months.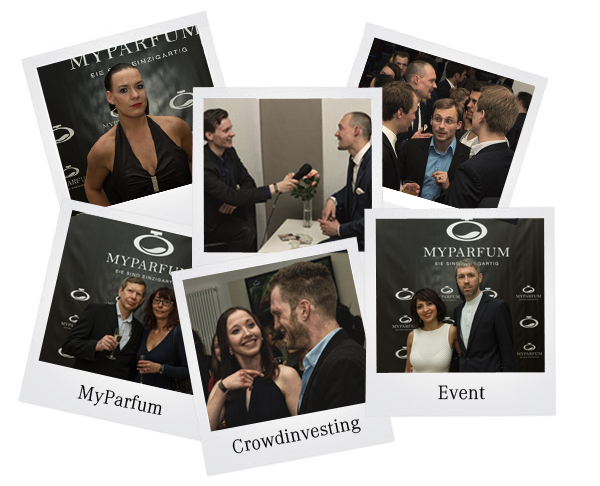 MyParfum Is Focusing on Stable Growth
Those who think that we will now prematurely agree on international VC expansion funding (if it is even offered to us) because of the "hot" market situation are wrong. We carefully consider each step we take. Because of our past experiences, we keep asking ourselves: "Is this really right for the company?" So far, this has meant that we had to balance the vision of globally available individual perfume against solid growth in Germany. Also, all involved parties have to get along with each other, and the long-term strategy must be right. Moreover, we benefit from our long experience during this exciting time.
Thus, things will remain interesting. In a few weeks, we will already provide you with more news. Until then, however, there is much left to do! :-)
Best regards,

Carina, Matti, and the entire team of MyParfum

P.S. Thank you very much for the many valuable questions, ideas, and suggestions in the comments!