Dear Companists,
We have a lot to tell you, so let's get started immediately!
Product: Trusted Shops Certification, New Shop Structure, SEO
As you may have noticed already while browsing our website in the last few weeks, there is a small e‑Trusted Shops symbol in the lower right corner of every page. In order to get this seal of approval, a shop must fulfill more than 100 quality criteria that guarantee secure shopping for customers. In addition, customers can rate a shop after their purchase; these ratings are visible for all users.
The Trusted Shops seal is the most renowned seal of its kind, and it signals trustworthiness and security to users. Regardless of this certification, the complete satisfaction of our customers and secure shopping have of course always been our top priorities.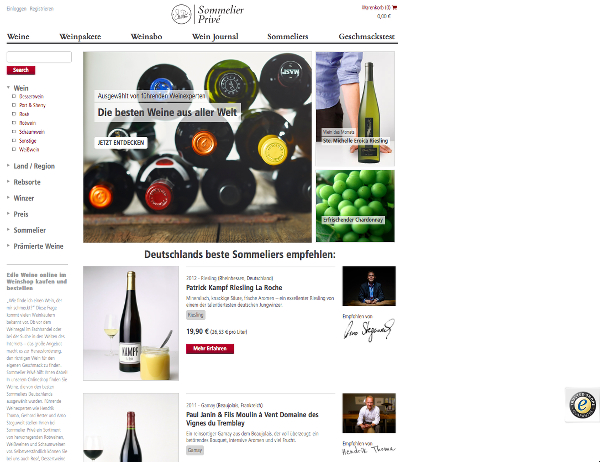 The New Shop Design Emphasizes the Fact that Sommeliers Select the Wines
Last week, we made another change to our website: We have improved the presentation of our products in the shop. On the one hand, we have optimized the page structure based on SEO criteria, and on the other hand, we are now emphasizing our USP (unique selling point) of sommelier advice even more than before.
It is now easier to see the difference between wines recommended by sommeliers and the other wines we offer. Our goal is to present 5 tailored sommelier wines to each customer in a very prominent position on the first page of the shop – no matter how the customer gets to the shop.
As far as our IT is concerned, we are also working on improving the performance of the site.
PR: The Hundert, Domicil, ProWein
The magazine The Hundert presents 100 Berlin start-ups, and we are one of them! The online issue can be downloaded for free. Here, you will also find a detailed interview. As you may have guessed, we had a lot of fun during the shooting (pictures by Max Threlfall).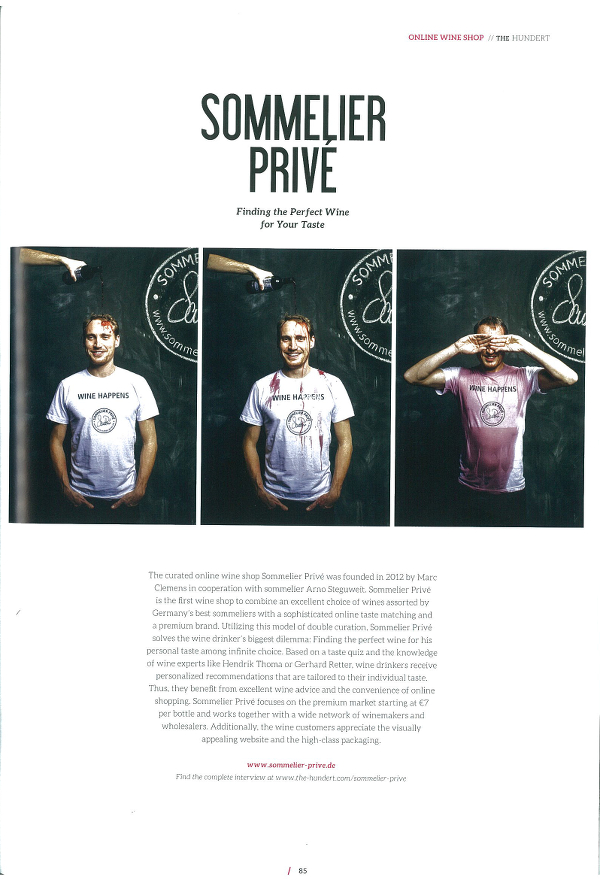 Sommelier Privé Is Presented in the Start-up Magazine The Hundert
Moreover, the home and lifestyle magazine Domicil (print circulation of 100,000) asked us to recommend some exciting summer wines. Naturally, our sommelier Willi Schlögl was very happy to do so.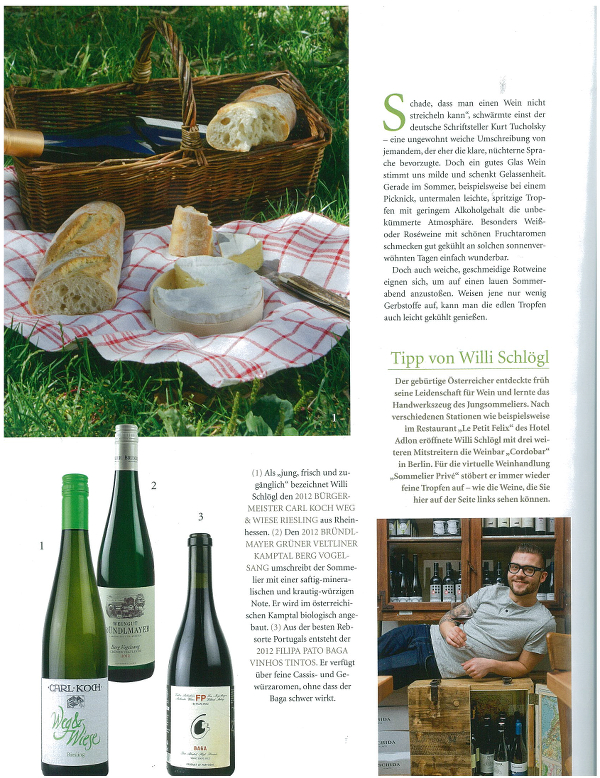 Our Sommelier Willi Schlögl Recommends three Summer Wines in the Current Issue of Domicil
In March, the ProWein, one of the world's largest wine fairs with almost 5,000 exhibitors, took place in Düsseldorf. Of course, we were there to maintain our contacts with winemakers, sellers, and sommeliers and to make many new contacts. By the way, we also had one or two wines while we were there. You may find some impressions in our Wein Journal article.
Operations: Outsourcing of Logistics, Last Bottle Sale
We have taken an important step by outsourcing our logistics department to a partner. We have successfully made the transition despite the minor stumbling blocks we expected. For this reason, we sold some remaining bottles that we did not move directly from our warehouse and online in the form of special packages. Both campaigns were well received.
Finance: Due Diligence for Series A in Progress
As you know, we are working on a Series A round and can tell you it is going very well. We have attracted very interesting investors and are currently in the process of carrying out due diligence and negotiating final details. Unfortunately, we cannot tell you more at this time. However, we promise to do so soon!
As always, we are glad to receive your feedback, suggestions, and questions.
Cheers!
The Sommelier Privé team