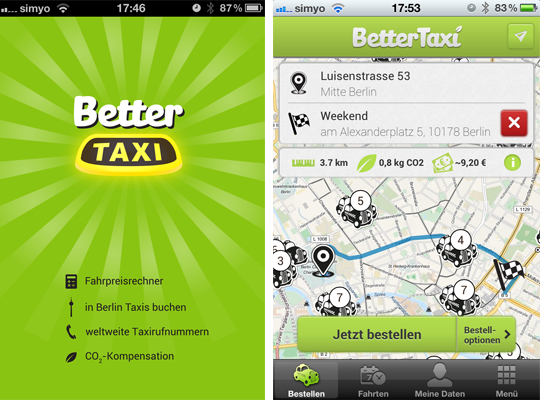 Die BetterTaxi-App
Die BetterTaxi-App ist kostenlos für iPhone und Android erhältlich. Sie ermöglicht die Taxibestellung ohne Anruf mit einem Klick. Nach dem Öffnen wird der Nutzer von der App lokalisiert und sieht die verfügbaren Taxis in seiner Umgebung. Nach der Bestellung kann der Nutzer dank der Übermittlung der GPS-Daten die Anfahrt des Taxis verfolgen. Je nach Wunsch kann man vor der Fahrt den Fahrpreis berechnen und Abfahrtzeit sowie Taximerkmale individuell anpassen.
Start in Berlin, Taxinummern in Deutschland
Zur Zeit ist die Bestellung in Berlin möglich, wo etwa 1000 Taxis an BetterTaxi angeschlossen sind. In 150 weiteren deutschen und internationalen Städten wird dem Nutzer die lokale Taxirufnummer angezeigt. BetterTaxi möchte Taxifahren umweltfreundlicher machen und zahlt für jede Taxifahrt einen CO2-Ausgleich, welcher über das renommierte Klimaschutzunternehmen ARKTIK in nachhaltige Klimaprojekte investiert wird.
Wie funktioniert BetterTaxi
Im Unterschied zu anderen Taxi-Apps kooperiert BetterTaxi mit den lokalen Taxizentralen. Den Nutzern steht somit eine hohe Anzahl an Taxis zur Verfügung, was sich in kürzeren Wartezeiten bemerkbar macht. Für BetterTaxi bietet dieses Vorgehen einen entscheidenden Vorteil: Es müssen nicht einzelne Fahrer akquiriert werden, was die Expansionskosten deutlich senkt. Als einzige branchenunabhängige Taxi-App verfügt BetterTaxi über die technischen Schnittstellen zu den meisten Taxi-Zentralen in Deutschalnd. Dies erlaubt eine schnelle standardisierte Anbindung neuer kooperierender Zentralen. Über die Schnittstellen sind potentiell 40.000 Taxis in Deutschland verfügbar.
Bargeld war gestern
Was, wenn man nachts ein Taxi rufen möchte, aber feststellt, dass man an der Kinokasse gerade sein letztes Geld ausgegeben hat? Gar kein Problem, sofern sich der Nutzer zuvor samt Zahlungsinformationen registriert hat. Der Nutzer kann nun bargeldlos Taxifahren. Registrieren - Einsteigen - Aussteigen. BetterTaxi übernimmt die Zahlungsabwicklung und schickt die Rechnung bequem nach Hause. Die bargeldlose Bezahlung wird noch 2012 eingeführt. Neben Privatkunden ist dieses Funktion besonders für Geschäftskunden und Unternehmen spannend. Die Abrechnung der Taxifahrten wird so deutlich einfacher und transparenter, was am Ende Kosten spart.
Taxi-Sharing: Save money and the planet!
Mit dem Taxi-Sharing wird man mit BetterTaxi ab Sommer 2013 nicht nur alleine fahren - sondern sein Taxi auch mit anderen teilen können. Nutzer, die zur gleichen Zeit in eine ähnliche Richtung fahren, können sich das Taxi und damit den Fahrpreis teilen. Auf Basis eines speziell entwickelten Algorithmus' kann BetterTaxi ähnliche Fahrten zusammenlegen und für jeden Mitfahrer anteilig den fairen Preis berechnen. Gerade junge Taxikunden, die keinen großen finanziellen Spielraum, dafür aber mit ziemlicher Sicherheit ein Smartphone haben, werden von diesem Taxi-Sharing-Feature angesprochen. Zudem ist eine solche Funktion vor allem für lange Taxi-Fahrten wie bspw. zum Flughafen oder Bahnhof sinnvoll.
Spannender Markt
In Deutschland kommen knapp 50.000 Taxis pro Jahr auf ca. 400 Millionen Fahrten und setzen ca. 4 Milliarden Euro um. Nur rund ein Prozent aller Taxifahrten werden bis dato über eine App vermittelt. Mit zunehmender Ausbreitung von Smartphones wird dieser Anteil deutlich zunehmen. BetterTaxi geht davon aus, dass mittelfristig jede fünfte Fahrt über eine App vermittelt wird. Vor allem ist BetterTaxi der Meinung, dass die Zentralen auch in Zukunft eine wichtige Rolle spielen werden und die Zusammenarbeit mit den Zentralen eine große Chance darstellt.
Wie BetterTaxi Geld verdient
Für die Vermittlung von Einzel- und Sammelfahrten zahlen angebundene Zentralen eine kleine Provision an BetterTaxi. Für private Endnutzer ist die Bestellung einer Einzelfahrt komplett kostenlos. Da Nutzer über Taxi-Sharing deutlich günstiger Taxifahren können, kann BetterTaxi für erfolgreiche Sammelfahrten auch eine Gebühr von den Kunden nehmen.
Wie geht es weiter
Nach dem Start in Berlin werden nun weitere Städte angebunden, um Schritt für Schritt eine deutschlandweite Bestellung zu ermöglichen. Mit Euch, den Companisten, werden wir dies möglich machen und gemeinsam den Taximarkt verändern. Unterstütz uns, damit Du auch bald in Deiner Stadt BetterTaxi fahren kannst!