Dear Companists,
We are happy that you have not stopped believing in energieheld and in our idea! You will soon be able to meet us during a live meeting online. We would like to introduce you to our platform, and we have additional news for you.
Live Meeting on 15 and 16 February
Our platform www.energieheld.de is one of our key assets. However, one of the major factors in our company's success is totally invisible to most website visitors and clients. Thus far, the development of our platform has taken more than 15,000 hours of work, and we are still working on new solutions that will be a sensible addition to our service and will provide everyone involved with even more advantages in the future.
Software Solution as a Key to the Digitization of Craftsman Businesses
Our partner craftsmen are very well prepared for realizing modernization projects. Communication with clients and efficient, digital processes, however, are not particular strengths of most traditional craftsman businesses. energieheld has recognized this problem and has come up with a solution. Therefore, digital and transparent processes are already available on the energieheld platform for all projects that energieheld forwards to its partner craftsmen.
Because of high demand from craftsman businesses for using this solution for their own customer base as well, we have been working on a white-label software as a service (SaaS) solution for quite some time. Using this solution, craftsman businesses will be able to manage their entire processes digitally in the future, thus also being able to keep better track of their projects and to constantly interact with customers. As a result, craftsmen will have the opportunity to perfectly structure their business operations and to significantly increase their revenues through unique and transparent processes for the first time.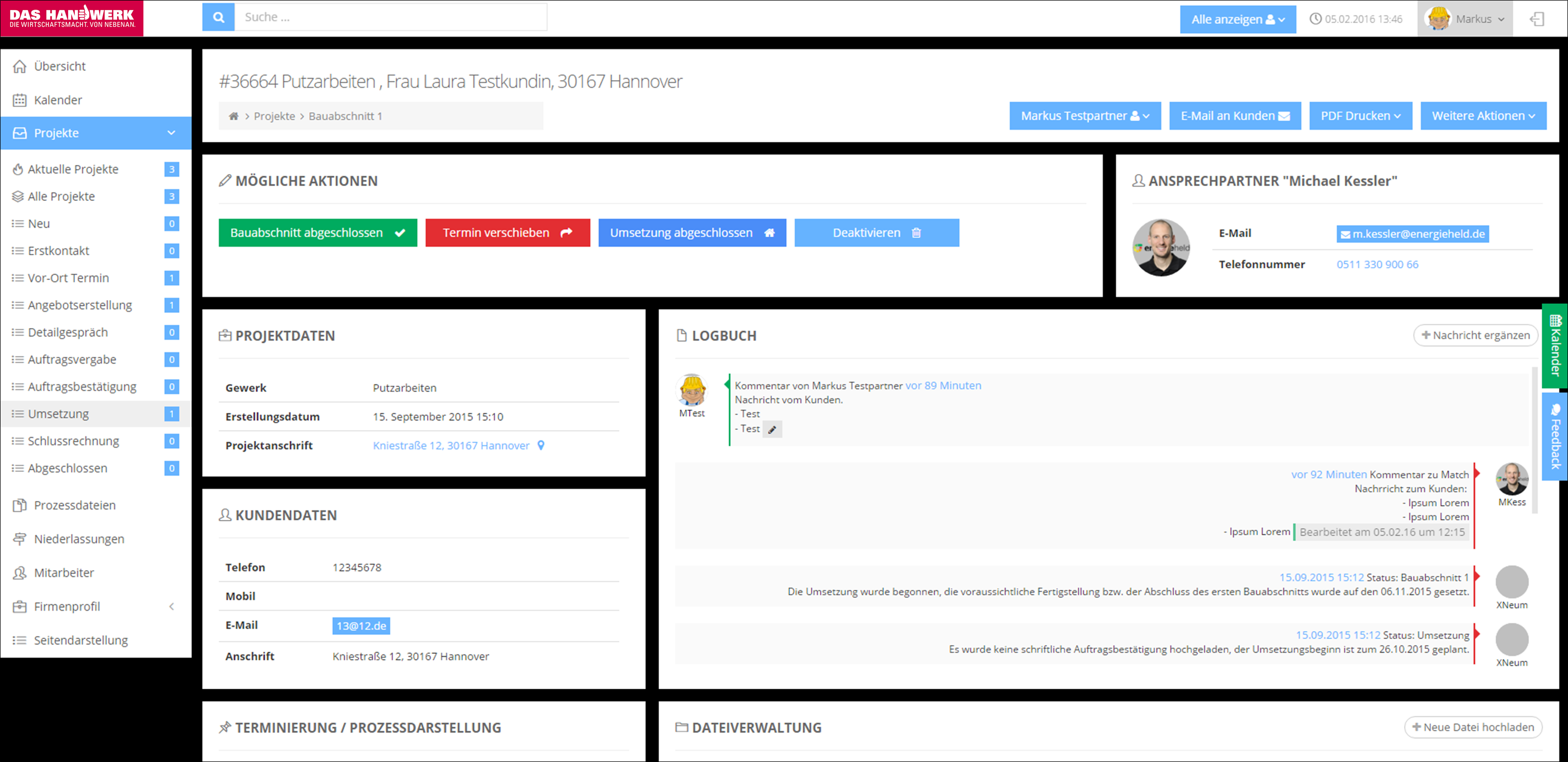 Screenshot of Platform View for Craftsmen
We have started the test of our new solution with three select clients on 1 February 2016. Based on the results of this test, we will keep improving individual features and then make our solution available to all craftsmen. Through such fee-based solutions, we plan to generate significant revenues in the future.
Big Data as a Key to Success and a Look behind the Scenes of the energieheld Platform for Companists
On our platform, energieheld counselors and craftsman businesses are collaborating to provide clients, which may also access the platform, with perfect service in terms of the energy-efficiency modernization of their buildings. This central point of contact is the reason why energieheld has such a huge potential: Through lean, digital, and particularly efficient processes, we make energy-efficiency modernization not only more transparent for customers and craftsmen, but also more effective and less expensive.
We would now like to show interested people this potential during a live meeting and introduce them to the energieheld platform. Consequently, we plan to host a live webcast at 6 p.m. CET on both 15 and 16 February, during which we will provide the audience with a tour of our platform and answer any questions people may still have.
In case you are interested in this event, please email live-meeting@energieheld.de or simply sign up for the live meeting with your email address using the link below (Doodle; your email will not be displayed to other users). We will provide you with more information soon, and we are already looking forward to an exciting event!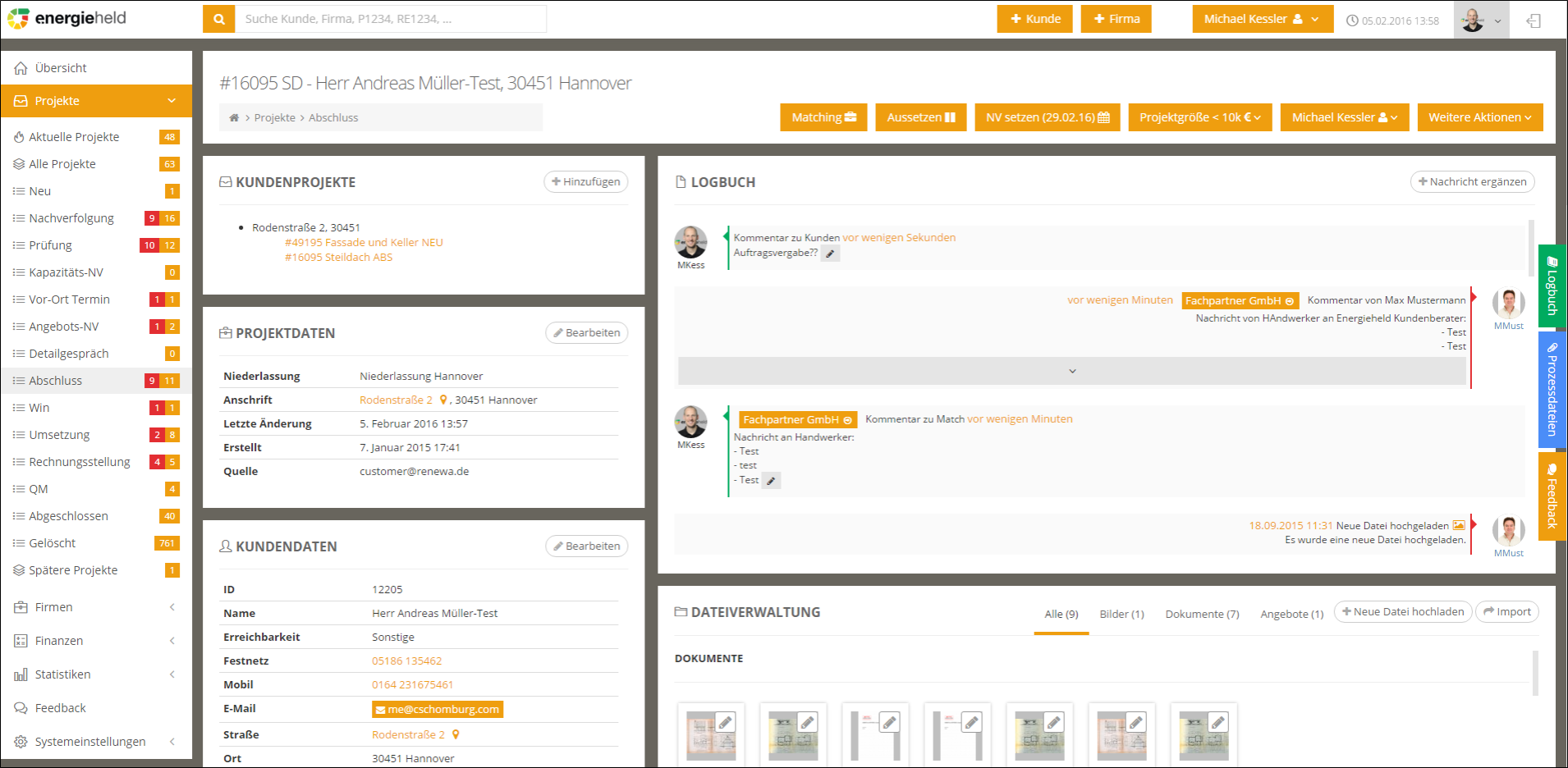 Internal Platform View for energieheld Counselors
Best regards,
The energieheld team