Dear Companists,
Email marketing is one of the most popular marketing channels. Indeed, companies can use digital newsletters to reach customers in an inexpensive and effective manner. Mornin' Glory uses this marketing channel to inform customers of new products and offers and to provide them with shaving advice.
At Mornin' Glory, we have made considerable progress using this CRM (customer relationship management) tool. Whereas we initially used to send customers a monthly newsletter, we now send out several targeted mailings per week. This strategy has enabled us to achieve opening rates of up to 59 % and click rates of up to 32 % for our newsletters. In terms of conversion rates, we achieve up to 7 % (based on the number of emails opened).
Innovative mailing templates help us keep this CRM tool exciting and address customers in a visual fashion that suits their interests. In this way, we are able to increase both customer loyalty and the repurchase rate.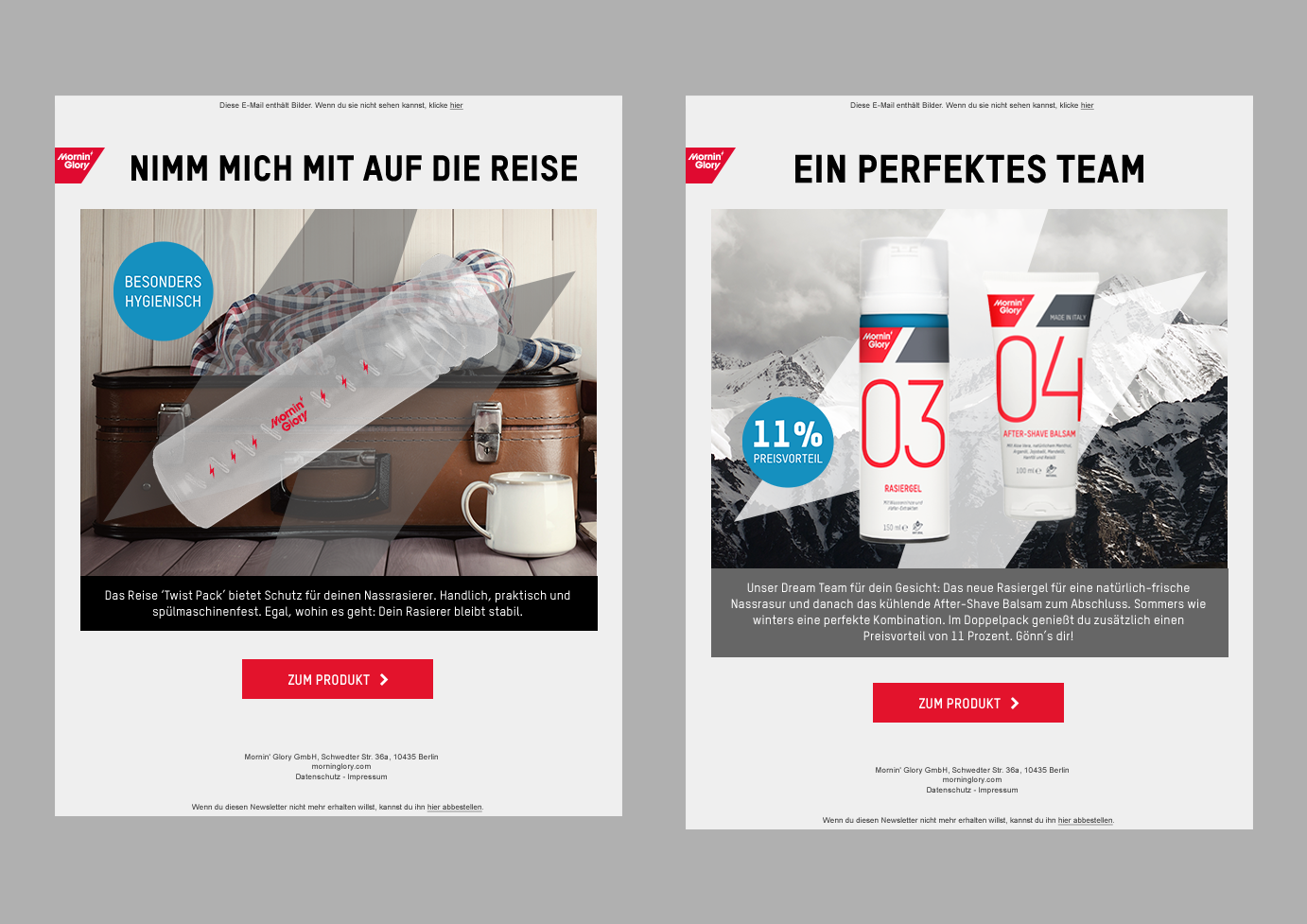 Optivo Uses Mornin' Glory as a Case Study
Software company Optivo, a subsidiary of Deutsche Post DHL Group, has watched the Mornin' Glory success story unfold from the beginning, so the company has also noticed how fast we have improved our CRM activities. Consequently, Optivo chose Mornin' Glory for a case study in January 2016, which focused particularly on the very good performance of our automated email service. Moreover, Optivo's case study looked at our well-balanced combination of product presentation, practical tips, and content marketing.
2016 Berlin Email Summit
The case study was accompanied by a presentation of the Mornin' Glory CRM processes at the 2016 Berlin Email Summit. At this event, two of our team members gave a presentation on success factors in automated emails to an audience of interested experts. During the presentation, they also presented best cases and answered very specific questions. Apart from Mornin' Glory, companies such as Continental, Bosch, DefShop, and Freeletics also gave presentations at the 2016 Berlin Email Summit. The event was a huge success and showed once again that Mornin' Glory has chosen the right CRM strategy.
Best regards,
Fabio & Ulli