Dear Companists,
Almost two months have passed since the launch of the campaign. Once again, we have quite a lot of news for you: we reached the investment threshold and have been on tour in Germany!
Reaching the investment threshold
It is very reassuring for a start-up that has only been operating on the market for 6 months to win over investors. Thanks to the trust placed in us by 349 Companists, who have invested a total of € 133,725 in homefort so far, we were able to reach the investment threshold, which makes us feel very proud. We would like to thank all of you, as you have not only invested money but also supported us with a lot of feedback.
homefort takes stock of past events
Innovation workshop Connected Services SAP & Connected Living
On 15 + 16 September 2016, we participated in the innovation workshop at the SAP Innovation Center Potsdam. This event unites start-ups and established businesses to discuss new smart home approaches and solutions together. Our founder Oliver Kremers had the opportunity to present homefort on both event days during the Start-Up Pitches and answer questions in the subsequent networking event. The event was a great experience. Further workshops with the corporates are scheduled for the next weeks. We are certain that we will be able to establish some interesting partnerships.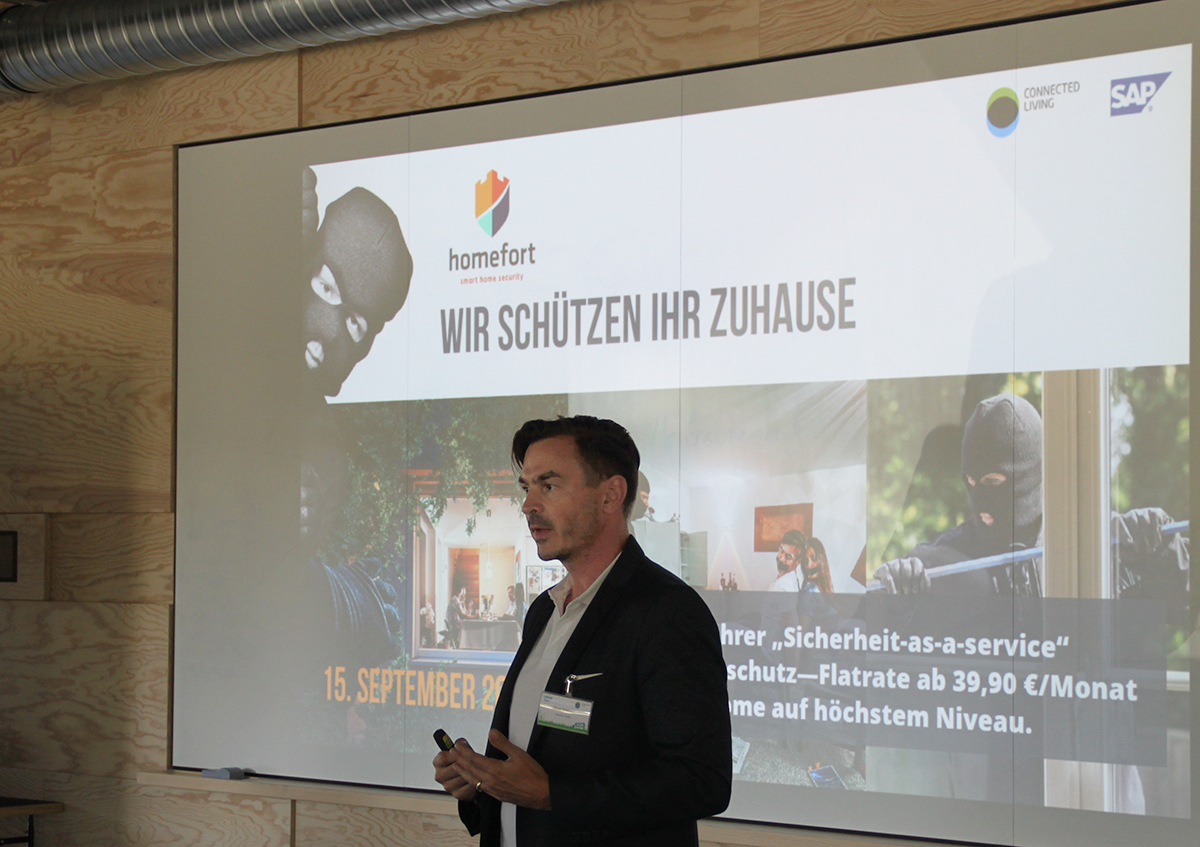 DEHOGA-Marktplatz in Saarbrücken
Our team participated in another event on 19 September 2016, namely the 2nd DEHOGA-Marktplatz in Saarbrücken, the meeting point for restaurant owners and hoteliers. The "Deutscher Hotel und Gaststättenverband" is the face of a service industry with more than 221,000 businesses. At our booth, we presented homefort's "Gastro Protect", a special service tailored to the needs of restaurant owners. For a monthly flat rate of € 39.90, homefort can protect any gastronomy property. The smart home alarm system is constantly connected to the emergency call center. In an emergency, the police or fire department will be contacted. The packages also include maintenance and service. If the customer signs a contract, we will provide him/her with free hardware worth in excess of 1000 euros.
homefort announces next events
The Future Of Housing And Living - ClubGlobals
ClubGlobals in Berlin and Barcelona provides a platform for international nomads and global entrepreneurs. The core idea is to answer questions for people who have just moved to the area: Where is the best place to live? Who is the best telephone provider? Where can we go out to eat? Who provides smart home security? ClubGlobals organizes events and presents service providers that assist their international members. In our opinion, a great idea! Mehdi will represent us as speaker during the panel discussion and, in the future, we will be listed as a premium partner in the category "solutioners".
security essen 2016
From 27 to 30 September 2016, we will be at the trade show "security essen". security essen is the global market for security and fire protection. More than 1000 exhibitors from all over Europe will present their new products and professional services related to security and fire protection.
DKM 2016
We are going back on tour at the end of October. From 25 to 27 October 2016, we will be at the DKM, a trade show for the finance and insurance industry, in the Westfalenhalle in Dortmund, Germany!
DKM is the most important trade show for the German finance and insurance industry. Approximately 17,000 professionals meet there every year to discuss important industry topics and set new trends. We have been invited to join our cooperation partner, MAKLERKONZEPTE, as co-exhibitors at the DKM. The consulting agency from Hamburg supports financial service providers in their choice of software solutions. Dear Companists, we would like to invite you to visit our booth E06 in hall 4 at the DKM 2016! We will be presenting our products and would like to hear your ideas about security solutions.
Kind regards,
Team homefort